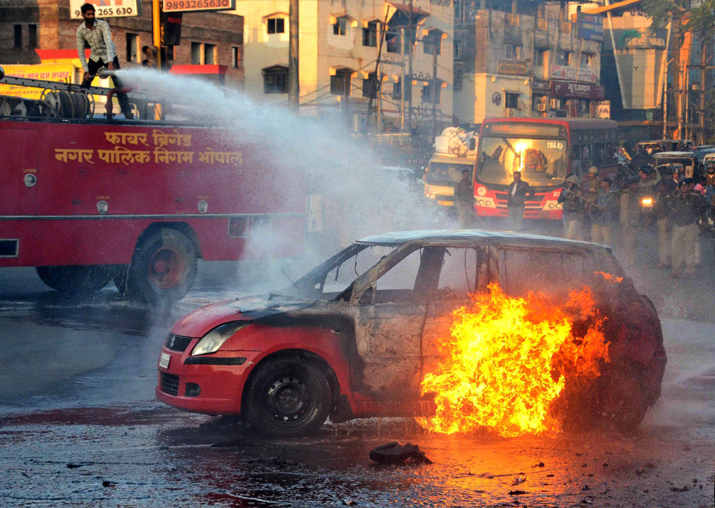 As movie-goers made a bee-line for the controversial film Padmaavat despite death threats, an attack on Haryana school bus by angry Rajput protestors has riled up the political battle on the matter. 
Quiet since long on the issue of threats and violence perpetrated by Karni Sena and other fringe outfits, the opposition leaders were quick to attack the BJP Government for alleged inaction against protests after Wednesday violence. 
Rahul Gandhi (Congress)
Leading the charge, Congress President Rahul Gandhi on Wednesday hit out at the BJP, alleging the party's use of "hatred and violence" is setting the country on fire.  
"There will never be a cause big enough to justify violence against children. Violence and hatred are the weapons of the weak. The BJP's use of hatred and violence is setting our entire country on fire," Gandhi tweeted.  
There will never be a cause big enough to justify violence against children. Violence and hatred are the weapons of the weak. The BJP's use of hatred and violence is setting our entire country on fire.

— Rahul Gandhi (@RahulGandhi) January 24, 2018
Digvijaya Singh (Congress)
However, Congress party's Madhya Pradesh leader Digvijaya Singh disagreed with his party chief as he argued that films that hurt religious sentiments of people and which are not based on historical facts should not be made.
 
Manish Tewari (Congress)
Countering Digvijay's opinion was Congress spokesperson Manish Tewari, who described attempts to block the screening of 'Padmaavat' as "reprehensible" and questioned the Centre's silence on the matter.
"Vandalism to STOP release of Padmavat is, despicable reprehensible and utterly nauseating. Ques-Why is it happening  primarily in BJP-ruled states after even SC has green lighted the film? Is something beyond Padmavat at play? Why is I&B Min not standing up to enforce CBFC clearance?"
Vandalism to 🛑 STOP release of Padmavat is,despicable reprehensible&utterly nauseating. Ques-Why is it happening primarily in BJP ruled states after even SC has green lighted the film?Is something beyond Padmavat at play?Why is I&B Min not standing up to enforce CBFC clearance?

— Manish Tewari (@ManishTewari) January 25, 2018
Randeep Surjewala (Congress)
Congress's communications in-charge Randeep Surjewala took to Twitter to term the attack as "unacceptable" and "reprehensible" that endangered the lives of children. 
"Unacceptable, reprehensible and devastating as vandals attack school bus and Haryana Roadways bus in Gurgaon endangering the lives of innocent children and passengers." "Terrified children cry inconsolably and anarchy prevails. Khattar Govt fails again miserably in upholding law and order (sic)," he tweeted. 
Akhilesh Yadav (Samajwadi Party)
Samajwadi Party leader and former Uttar Pradesh chief minister Akhilesh Yadav held the  saffron party responsible for the violence before the release of the movie.  "One one hand, they (BJP) are protesting, and on the other hand pretending to control the situation arising out of the protests," Yadav told reporters. 
"Please go through the CCTV camera footage of protests in the state capital and you will know who are behind the protests," he said and blamed the BJP for "vitiating the atmosphere" in the country. 
Ahmed Hasan (Samajwadi Party)
Senior Samajwadi Party leader and Leader of Opposition in the Uttar Pradesh Legislative Council, Ahmed Hasan, yesterday claimed that the controversy has been whipped up by the BJP.  "It is a part of the BJP's conspiracy to divert the attention of common man from burning issues," he said. 
Hasan said that the Yogi Adityanath government has failed to maintain law and order and sought the intervention of Governor Ram Naik in improving the situation in the state. 
Arvind Kejriwal (AAP)
Delhi chief minister Arvind Kejriwal claimed that "The forces that "killed Muslims and burnt Dalits" are now "intruding into our homes, coming after our children". 
Condemning the attack on a school bus by a mob protesting the release of 'Padmaavat' in Gurgaon, Kejriwal said it was imperative to "speak up" against "divisive forces" as people cannot afford to remain silent anymore like "they were" when Muslims and Dalits were targeted in the country in the past.
"I appeal to everyone. We cannot afford to remain silent anymore. They killed Muslims, burnt Dalits alive, thrashed them. Today, they have started pelting our children with stones, have started intruding into our comes. Don't remain silent now, speak up," Kejriwal said. 
V K Singh (BJP)
Union minister V K Singh said that no one is allowed to misrepresent and distort history in the name of freedom of expression.
"Whenever we say something about history we must cross check it. Freedom of expression doesn't give us any right to tamper with history. We should pacify and resolve the situation by talking to the people who are protesting against the film. They should be asked about their concerns and objections in the film. Whenever there is a clash of interest, things will certainly be messed up," ANI quoted Singh as saying.
Abhivyakti ki swatantrta itihaas ko todphod karne ki ijazat nahi deti, toh jo viroh kar rahe hain unke saath baith ke isko suljhaya jaye,jab cheezen sehmati se nahi hoti hain toh phir usme gadbad hoti hai: VK Singh,Union Minister #Padmaavat pic.twitter.com/gfzgtaQbwE

— ANI (@ANI) January 25, 2018
Bhagwati Prakash (Rajasthan RSS)
Rajasthan RSS official today alleged that 'Padmaavat' is an attempt to "hurt" public sentiments by presenting heroic characters and their lives on the basis of unconfirmed and controversial information. 
RSS north-west regional sanghchalak Bhagwati Prakash said that films should spread the message of social harmony and brotherhood. 
"The film is being released on the lives of heroic characters for pure commercial interest, which is based on unconfirmed, controversial and imaginary information," Prakash alleged in a statement. 
"It is an attempt to hurt public sentiments and disturb social harmony, and the matter is of grave concern," Prakash said. 
Asaduddin Owaisi (AIMIM)
AIMIM chief and all-round gadfly Asaduddin Owaisi accused the BJP of being complicit in the actions of the fringe groups.
"Fringe have become the MAIN player as they have the tacit support of BJP government," Owaisi said in a tweet on Thursday.
Nandita Das (actor-director)
Nandita Das today said it is a scary time for artistes and writers of the present day as a certain sense of fear prevails among them.  "There was an episode of Padmavati in 'Bharat ek Khoj' TV series made by Shyam Benegal many years ago (1988) having Om Puri as Alauddin Khilji. Things we could do then but not now," she said. 
What's the fuss about, ask viewers 
Sanjay Leela Bhansali's "Padmaavat" opened to a decent box office collection despite massive threts by Rajput fringe groups.  
Initial reports suggested good business for the film. While the occupancy in Delhi was around 60 to 70 per cent for the first show at 9 am, in Mumbai it was lower at 40-45 per cent. 
Many of those who watched the film condemned the violence of the last few weeks, particularly the stoning of a schoolbus in Gurgaon yesterday, and said the film has nothing objectionable in it. 
In some halls, like the Satyam cineplex in west Delhi, the entire front row was occupied by uniformed security personnel. The hall also had bouncers.
  
A Rajput viewer, who requested anonymity, made it a point to watch the first show in Mumbai's Cinepolis and said it was an "excellent" effort by Bhansali and actually glorifies their culture. 
He also said there was nothing offensive in the movie, or in the "Ghoomar" song. 
"I am a Rajput and it pains me to see why people are behaving the way they are over this film. The violence, the threats, all are unnecessary and sad. We don't and can never support that," he said. 
Chunky Mehta, who also watched the film in the same theatre, said it presents the Rajput community in a good light and it is a "shame" that some people are creating an unsafe atmosphere. 
"It is a one time watch film. But any sensible person watching the film can say that there is nothing wrong or bad in the film," he added. 
Dhruv Singh, who hails from Rajasthan, which has seen several violent protests, referred to the "dream sequence" between Padmavati and Khilji, which several groups had objected to despite Bhansali clarifying that there was no such scene. 
"There was not a single dream sequence in the film so I don't know what the fuss is all about. The attack on children, burning buses is not something we Rajputs endorse. It is shameful what's happening. 
"I would request people to not be scared and come out and watch the film. I hope the protests can finally stop," he said. 
Delhi audiences seemed to be in agreement. "The movie is quite surreal. It has been shot beautifully. There is no dream sequence in the movie nor is there any scene featuring Ranveer and Deepika. The protests are wrong," Varun, a professional workng in MNC, said outside PVR Plaza. 
A young couple was also in the audience at the early morning show and had booked their tickets in advance.  "After watching the film we felt all this violence and protests are irrelevant. There is nothing offensive about the film," said the man, who asked not to be named.  Priya, a college student, said Bhansali honours "women power" in his latest film. 
"The way Bhansali has created Padmavati is beautiful. The female characters are really strong. I really liked Deepika in the film," she said. 
Banker Vineet, who was queuing up to go in, said he was not scared and would not miss the film just because of the unrest created by groups like the Karni Sena. 
"I believe in the Constitution and I am not scared to watch this movie. I trust our police. After I see the film, I will also ask my friends to watch it as soon as possible," he said.
(With inputs from PTI)