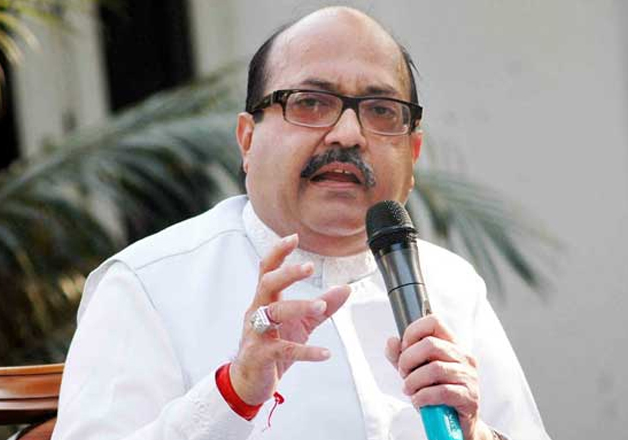 Samajwadi Party leader Amar Singh today said he has 'no option but to accept the decision of party supremo Mulayam Singh Yadav to revoke the expulsion of Ram Gopal'.
"I have no option but to accept (the decision to bring Ram Gopal Yadav back into SP fold). I accept it gracefully," Singh, considered Ram Gopal's arch rival, said.
He said nobody in the Samajwadi Party questions the decisions taken by its supremo.
"It was the leader's decision to expel (Ram Gopal) and this also is his decision...there was resentment in my return to the SP. But no one questioned it," he said. 
He also said though he is not a member of the Yadav clan, and is an outsider, he still has the privilege of being an insider. 
"I am both an insider and outsider in SP. It is a privilege," he said. 
In the feud in the Yadav clan, while Ram Gopal had sided with Chief Minister Akhilesh Yadav, Singh was seen supporting Shivpal Singh and Mulayam. The two have attacked each other through media in the recent past. 
Earlier in the day, Rajya Sabha MP Ram Gopal Yadav, who was expelled from the Samajwadi Party in October for six years in the midst of a raging feud in the Yadav clan, was today reinstated in the party. 
Party supremo Mulayam Singh Yadav said the expulsion of his cousin Ramgopal Yadav has been revoked with immediate effect. 
Ramgopal is a cousin of Mulayam and Shivpal and is considered to play the role of a "think tank". He had strongly supported Akhilesh in the family feud in the Yadav clan. 
With PTI Inputs