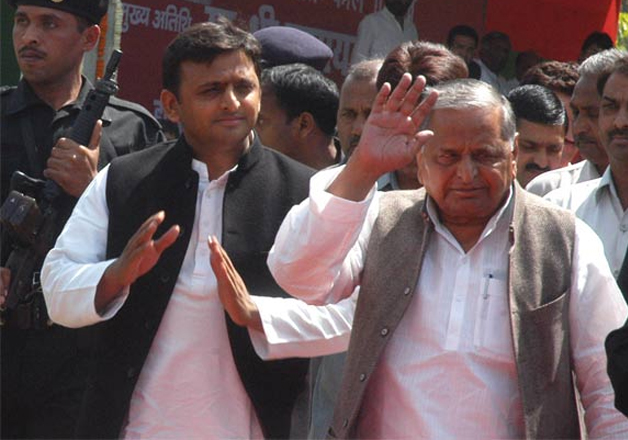 With ongoing tussle between Uttar Pradesh Chief Minister Akhilesh Yadav and his uncle Shivpal Yadav coming to the fore, the Samajwadi Party supremo Mulayam Singh Yadav has called a meeting of the party's parliamentary board in Lucknow on Friday to end the crisis.
Earlier on Wednesday, speaking at a function in Lucknow, Akhilesh, who chose the day to tweet about the start of his poll campaign on October 3, said "outsiders" were interfering in the affairs of the family and the party.
Akhilesh, it is believed, was hinting at the involvement of party's Rajya Sabha MP Amar Shing, who is not in good terms with him.
Interestingly, Akhilesh had in recent past opposed Amar Singh's entry into the SP fold – the move was backed by Mulayam and his brother Shivpal.
Yadav also described  his differences with uncle Shivpal Yadav, which have placed him in direct confrontation with his father as dispute in the government and not a family feud.
He said he would follow the directions of his father. "Kaun Netaji ki baat nahin manega? Jahan tak main samajhta hoon parivar ki baat hai…Yadi koi nirnay liya hai to Netaji ke kehne se hi.
The 44-year-old chief minister said, "I consult Neta ji on most decisions. But some decisions I take on my own."
As per reports, Mulayam's younger brother Ram Gopal Yadav has been rushed to Lucknow to convince Akhilesh, who has refused to soften his stand on the issue.
Earlier in the day, Shivpal told reporters in Saifai, the family home in Etawah district, that no one in the party could "ignore" Mulayam Singh's decisions. "The responsibility of the organisation has been assigned to me by Netaji and I will execute it properly. The people of Uttar Pradesh are with Netaji and Samajwadi Party. Whatever decision Netaji takes, I will follow that," he said.
Congress vice-president Rahul Gandhi, meanwhile, took a jibe at SP at his `khaat sabha' in Mirzapur, saying that the party's tyre had punctured and now "Ak hilesh had thrown the wheel out".
The high-voltage political drama unfolded on Tuesday after Mulayam removed Akhilesh from the post of the party's state chief and named Shivpal in his place.
In retaliation, Akhilesh stripped Shivpal of four key portfolios, striking a huge blow to his uncle's public image. This brought the family feud out in the open with observers saying this could seriously damage SP's prospects in the 2017 assembly polls.