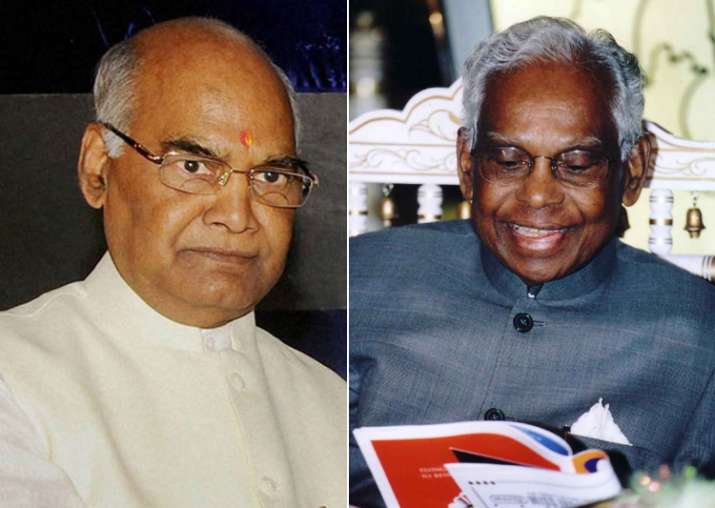 At a time when increasing incidents of atrocities on Dalits was appearing a challenge for the government, Prime Minister Narendra Modi's choice of Ram Nath Kovind as the NDA candidate for the Presidential elections is perceived a deft masterstroke. Once elected, Kovind will become second Dalit after Kocheril Raman Narayanan to hold the highest Constitutional post.
Narayanan, a Keralite, remained in office between 1997 and 2002. But similarities between the two, however, end there. Kovind is a complete antithesis of Narayanan, who was apparently from an elite background, having graduated from London School of Economics (LSE), referred to by Nehru as "the best diplomat of the country", former vice-chancellor of the Jawaharlal Nehru University (JNU) and someone who had also served as a minister in the Rajiv Gandhi government. Another dissimilarity is that Narayanan owed his ascendance to the Left, after sidelined by the Congress under Narasimha Rao for his left leanings.
Kovid, on the other hand, was chosen as candidate for his rightist leanings. An 'RSS loyalist', he was appointed the BJP national spokesperson in 2010.
Author Rajmohan Gandhi in his latest book 'Why Gandhi Still Matters: An Appraisal of the Mahatma's Legacy' has revealed that Mahatma Gandhi had rooted for Dalit President to the Constituent Assembly of India instead of Dr Rajendra Prasad. According to the book, the proposal for a Dalit as the first President was sparked off by the death of a 'talented' young Dalit from Andhra Pradesh, Chakrayya, who was with Gandhi at Sevagram ashram from its inception. The Mahatma, had on June 2, 1947 at a prayer meeting in memory of Chakrayya said that he would have proposed his name for the top post had he been alive. He repeated his views to Rajendra Prasad, saying a Dalit like Chakrayya on whom he had "nursed high hopes" or a Dalit girl should be made the first President.
However, the country had to wait till 1997 to get a Dalit president in KR Narayanan. After being sidelined in the Congress, Narayanan's appointment as Vice-President was actually traded off by CPM general secretary Harkishan Singh Surjeet, for supporting Dr Shankar Dayal Sharma in Presidential polls in 1992. A CPM politburo member, on instructions of the party leadership, on a scooter went to Narayanan's home to seek consent to be the Vice-Presidential candidate. Narayanan won that election quite comfortably as a joint nominee of the Congress, the Left and Janata Dal. Five years later, he became the first Dalit President of India, winning one of the most one-sided Presidential elections by defeating former Chief Election Commissioner TN Seshan by securing more than 90 per cent votes in the Electoral College. An assertive President, Narayanan dissolved Lok Sabha twice, refused to dismiss Kalyan Singh government in UP in 1997 and then a year later the Rabri Devi government in Bihar in 1998.
By nominating Kovind, a Dalit from a humble background as candidate, Modi has struck deep in the Opposition camp. Insiders said, the BJP leaders were wary of an Opposition mahagatbandhan — comprising Mayawati, Akhilesh and the Congress — happening in UP in 2019.
Despite losing in the recent Assembly elections, Mayawati's Bahujan Samajwadi Party (BSP) had secured 22 per cent votes. Political analysts are keeping fingers crossed on whether choosing a Dalit President will really resurrect the image of BJP and government after allegedly its lack of response to the suicide of Hyderabad scholar Rohith Vemula or attacks on Dalits by cow vigilantes.