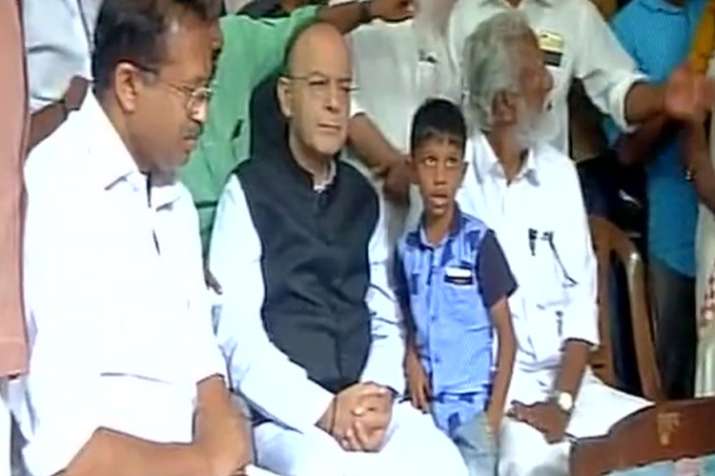 Union Finance Minister Arun Jaitley on Sunday arrived in Kerala and visited the house of slain RSS leader Rajesh in Sreekaryam. Meanwhile, members of Communist Party of India (Marxist) staged protest outside Raj Bhavan in Thiruvananthapuram against BJP's alleged attempts to exaggerate the political violence in the state as a means "to defame the CPM in the national front."
Visited the family of our deceased karyakarta Rajesh, who was slaughtered in the most barbaric manner : Arun Jaitley in Thiruvananthapuram pic.twitter.com/4J2CJbVOMn

— ANI (@ANI) August 6, 2017
Kerala: Union Minister Arun Jaitley visits family of slain RSS worker Rajesh Edavakode in Thiruvananthapuram. pic.twitter.com/7arSv34Qd6

— ANI (@ANI) August 6, 2017
During the visit, Jaitely spoke with the three-year old son of Rajesh and his aged parents. 
Jaitely's visit is widely seen as an attempt by the BJP to bring to national focus the issue of alleged increasing attacks on party cadres by the CPI-M.
State BJP leaders, including president Kummanam Rajasekharan, accompanied the Union Finance minister.
 
They explained to Jaitely the concern expressed by family members, including the widow of 34-year old Rajesh, who was hacked to death on July 29 by a gang led by an alleged historysheeter here.
Meanwhile, relatives of 21 persons, killed in political attacks over a period of time, began a 'Satyagarha' in front of the Raj Bhavan this morning. 
The family members of the victims, who belonged to the CPI-M and killed in different parts of the state, staged the dharna demanding that the Union minister visit their homes too and listen to their woes.
Kerala: CPI (M) members & their families stage protest outside Raj Bhavan in Thiruvananthapuram, over attacks on party workers. pic.twitter.com/6bKyFANq7r

— ANI (@ANI) August 6, 2017
"Arun Jaitley who is here in the state, should spend time with the close relatives of the CPM members killed in attacks. He should also hear their grievances," LDF convenor Vaikkom Viswan was quoted by Times of India as saying. 
"It's the same BJP which does nothing to stop the violence in the name of cow vigilantism in north Indian states and is now making deplorable efforts to defame Kerala government. The purpose of Arun Jaitley's visit is very clear. It's nothing but politics that brought him here. But, Arun Jaitley is not just a BJP leader. He is a responsible minister in the union cabinet. He should act as the minister of all the citizens of the country," he added. 
Jaitley will also meet RSS leader Jayprakash, who was brutally injured in a CPM attack, some eight months back.
The visit by BJP's top minister comes the same day as the all-party meet called by the Kerala CM Pinarayi Vijayan and a day after CPI(M) and BJP-RSS leaders met in Kannur to discuss the political killings.
After the meet, both parties said that within the next 10 days they will instruct their party cadres to not indulge in any violent activity.
The state had been witnessing a cycle of violence involving BJP-RSS and CPI-M workers with the capital district rocked by incidents of attacks on houses of rival partymen in the past few days. 
The state BJP office was vandalised on July 28. Governor P Sathasivam had summoned Vijayan and the state police chief over the law and order situation in the wake of the violence in the state.