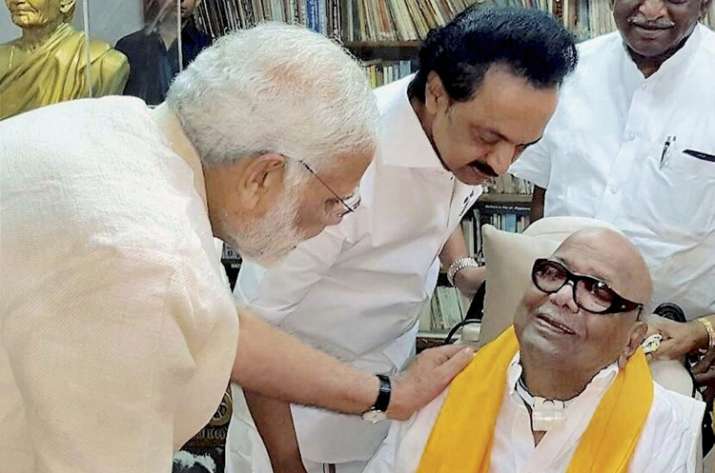 A day after a high-profile meeting between Prime Minister Narendra Modi and DMK President M Karunanidhi, the regional party cancelled its planned protest in eight Tamil Nadu districts against demonitisation on November 8, the anniversary of the move by the Central government. 
The DMK has cited heavy rains and waterlogging as the reason for cancelling the protest in eight districts of Tamil Nadu. However, political observers see this as a major development ahead of the 2019 Lok Sabha elections.
Opposition parties led by the Congress have planned nationwide protests on November 8 to mark the day as 'Black Day'.
Modi had on Monday met ailing Karunanidhi, a former Tamil Nadu chief minister, even as the DMK said no politics was discussed during the meeting. 
This was the first meeting between the two leaders after Modi became the prime minister in May 2014. 
The meeting came as 2G spectrum scam cases, in which Karunanidhi's wife Dayalu Ammal and his daughter Kanimozhi are accused, are also drawing to a close. 
The meeting at Karunanidhi's Gopalapuram residence during which Modi enquired about his health lasted about 20 minutes. 
Modi sat next to wheelchair-bound Karunanidhi, 93, and held his hands. 
The opposition DMK indicated that not much should be read of the meeting and that it was a "courtesy call." 
"The prime minister did not come with any political intentions nor did he talk politics. He only enquired about Kalaignar's (Karunandhi) health," M K Stalin, who is Karunanidhi's son and DMK working president, told reporters. 
Modi called on Karaunanidhi as he was a senior Dravidian leader and only came to enquire about his health, he said. 
As political pundits tried to see a hidden meaning in the meeting, Stalin said only the media was thinking that there was a political angle to it.