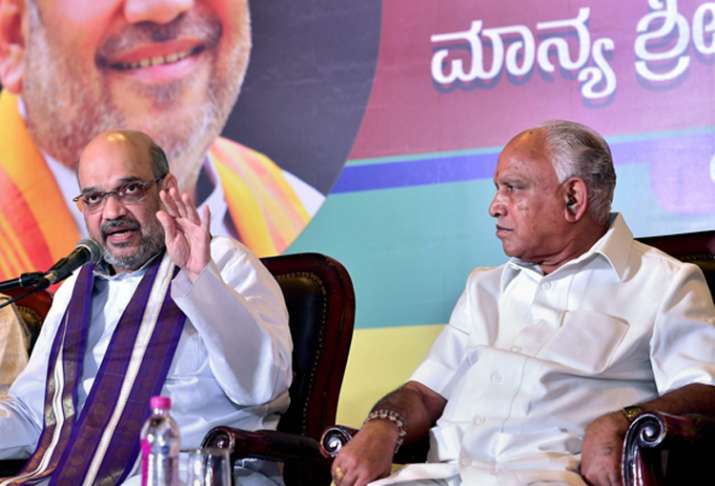 BJP President Amit Shah today said the party would fight the next Assembly polls under the leadership of state party chief B S Yeddyurappa and would reap poll benefits by way of Modi government's goodwill shown in terms of development grants given to Karnataka. "We will fight the election under Yeddyurappaji's leadership... But it is quite natural that the BJP would reap poll benefits by way of goodwill shown to Karnataka by Modi government at the Centre by doling out grants for development," he told reporters here. 
On the state government "playing politics" over Hindi language, Shah said the people of the state understood that Chief Minister Siddaramaiah was not serious about it and was playing vote-bank politics keeping in mind the assembly polls, due early next year. 
"Why hasn't Siddaramaiah raised this issue two days after taking oath as Chief Minister. The fact that he has raised them four months prior to the election, people for sure know he is not serious, but playing vote-bank politics," he said. 
Shah also slammed the Congress government in the state over the attacks on BJP and Sangh workers. In the last four years, some 30 workers of the Sangh have been killed and attacked, he said. 
"What kind of appeasement politics is this? Will the government answer why it let off jailed Popular Front of India activists and revoked all cases against them?" he asked. Asked to react to Congress allegations that the BJP government at the Centre was using central agencies to book their leaders during Gujarat MLAs stay here at a resort, Shah said "is it right to keep MLAs as hostage when a part of Gujarat was reeling under floods? Let Congress give reply on it first, then I will answer all their questions." On the timing of Income Tax raids on state Energy Minister D K Shivakumar's properties, Shah said many such raids have taken place, but why doesn't the Congress seek resignations of their leaders inspite of raids andarrests made. 
"Why doesn't Congress seek resignations from their leaders, whose black money and benami property comes to light during raids?," he asked. 
Replying to a query, Shah said BJP governments inMadhya Pradesh and Rajasthan have initiated probe into corruption charges, unlike the Congress government led by Siddarmaiah in Karnataka. 
"The BJP had initiated High Court-monitored probe into MPscam. We did the same in Rajasthan. You must understand the difference. Let Siddaramaiah at least initiateprobe into corruption charges. We do not have any qualms about it," he said. 
He said the BJP also suspended two of the Kerala unit leaders forcorruption. 
Asked about the demand for a separate religion status for Lingayats, the largest community in Karnataka, Shah said "thisis a political game of Siddaramaiah." 
On the Centre's plan to hold state and general elections together next year, Shah said the issue would be taken up for discussion after all parties arrive at a consensus. On BJP's stand on article 35 A relating to special rights and privileges of the citizens of Jammu and Kashmir, he said, "we will place our stand before the court." 
The Supreme Court is hearing a plea filed by one Charu Wali Khanna challenging Article 35A of the Constitution and Section six of the Jammu and Kashmir Constitution which deal with the "permanent residents" of the state. 
The plea has challenged certain provisions of the Constitution which deny property right to a woman who marries a person from outside the state. 
The provision, which makes such women from the state to lose rights over property, also applies to her son.