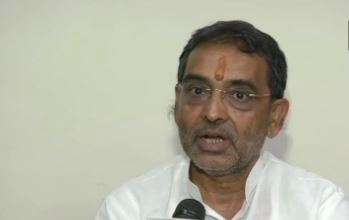 Union Minister Upendra Kushwaha on Sunday said that appointment of Justice Goyal as NGT chairman has sent a very wrong message and demanded his removal.
"We are assuring people that we won't let them suffer because of Justice Goyal's decision (on SC/ST Act), but his appointment as NGT chairman has sent a very wrong message. I support the demand of his removal from the post of NGT chairman," ANI quoted Kushwaha as saying.
Meanwhile, declaring that it was "running out of patience", NDA constituent Lok Janshakti Party (LJP) on Friday warned of an agitation if an ordinance to strengthen the SC-ST Act was not promulgated and the Chairman of the National Green Tribunal was not removed by August 9.
Catch all the latest news about Lok Sabha elections 2019 HERE
The development comes three days after it wrote to Prime Minister Narendra Modi apprising him of an expected backlash from Scheduled Castes (SC) and Scheduled Tribes (ST) over the government's inaction in resolving their issues. 
Addressing a press conference, Chirag Paswan, party MP and son of Union Minister Ram Vilas Paswan, said people from the SC and ST communities were feeling betrayed as the BJP-led NDA government had not issued an ordinance "as yet" to overturn the Supreme Court's March 20 order that "diluted" the original SC-ST (Prevention of Atrocities) Act. 
The government appointed Justice A.K Goel, "who ruled against the Act", as NGT Chairman.
A Supreme Court bench led by Justices Goel and U U Lalit had on March 20 gave a verdict related to the provisions of the Scheduled Castes and the Scheduled Tribes (Prevention of Atrocities) Act. The bench ruled that government servants should not be arrested without prior sanction and private citizens too, can be arrested only after an inquiry.
(With inputs from agencies)