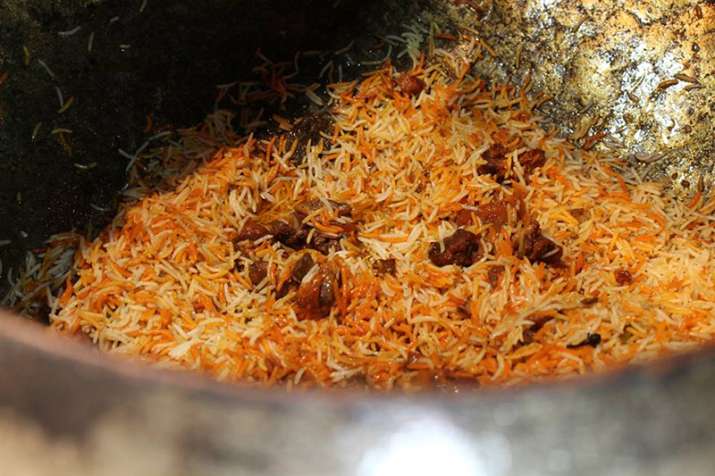 Sensing increased turbulence due to self-proclaimed "cow vigilantes" throughout the country, the BJP-led Haryana government has now decided to keep a strict check on the alleged furtive sale of cow meat by biryani vendors. 
Haryana government's Gau Sewa Aayog (cow service commission) has directed the police in the Muslim-dominated Mewat district to collect samples of biryani from street vendors to check for the meat used, says a Times of India report. 
Commission's chairman Bhani Ram Mangla said that the directive was a result of several complaints regarding biryani vendors serving beef. 
The move from Gau Sewa Aayog comes just ahead of Bakri Eid and the practice will be carried out in other districts as well. 
Meanwhile, Mangla will soon call a meeting of preachers and top locals and request them to totally avoid beef during the festival. 
Bharti Arora, Deputy Inspector General (DIG) of Haryana's special task force, said that police has already started collecting samples. 
"So far, we were selectively collecting samples, but now the sampling will be random, targeting all vendors selling biryani," Times of India quoted Arora as saying. 
When questioned about why only biryani samples are being collected and not of other mutton dishes, Mangla said that it is difficult to sell beef openly and it is easy for vendors to mix it with rice and sell it openly.
While the police have been directed to book vendors if a sample tests positive for beef, the Gau Sewa Aayog has also asked the food and drug regulator to ensure early reports of the tests. 
On the other hand, the move is facing a strong disagreement from Congress, which has termed it as an attempt to humiliate a particular community.
"This (the sampling) violates constitutional provisions regarding people's right to work. This is vague and unjustified," said senior Congress member Aftab Ahmed.