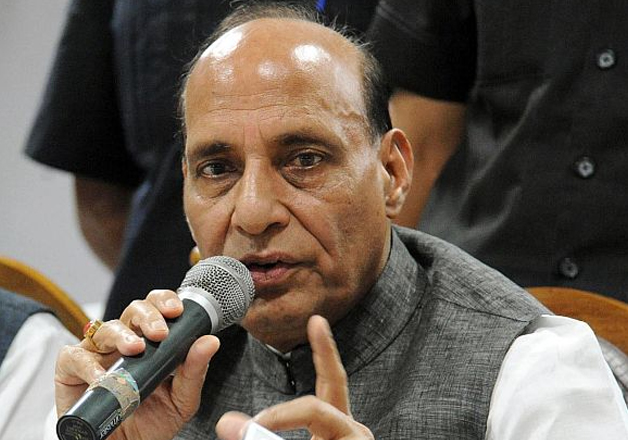 Union Home Minister Rajnath Singh today said that there has been a drastic decrease in Naxalism and terrorism across the country due to demonetisation of Rs 500 and Rs 1,000 notes.
"Terrorism is the weapon of the coward," he said, adding that his government which 'has a strong heart' has brought down extremism and Naxalism significantly over the last two years. 
Addressing a rally in Rewari, Singh appealed to people not to get dragged or believe in or spread rumours related to the November 8 decision.
Singh said that the hardship arising out of demonetisation may continue for around a month and that the move was the first step towards achieving economic and social freedom. 
"Please bear with the inconvenience for just a few days because this move will ensure golden future for India," he said.
Singh also attacked opposition parties for not welcoming the historic decision which 'aims to cut down the difference between poor and rich'.
"It wasn't a small decision. We admit that people will face hardships for at least a month but it will be beneficial in the long term. A few political parties are opposing it. But bear with it for some time. We will give you a bright future," he said.
"India has got political freedom but we need economic and social freedom. We want economic inequality to end. The demonetisation of Rs 500 and Rs 1,000 notes is the first step towards that. It will help bring transparency in Indian politics," he added. 
Referring to the surgical strikes, Singh hailed the soldiers for proving that 'hum idhar bhi maar sakte hain aur udhar bhi maar sakte hain' (We can kill them on either side of the border). 
Singh also hit out at Pakistan for betraying the trust India reposed in it after the Narendra Modi government came to power in 2014. 
Few days ago, news agency ANI, while quoting Home Ministry sources, reported that there has been a decline in separatist-instigated violence in the Valley after the sudden demonetisation move.
The government, since the surprise announcement of the demonetisation move, has reiterated that this would not only prevent corruption and hoarding of black money but also go a long way in curbing terror-funding.