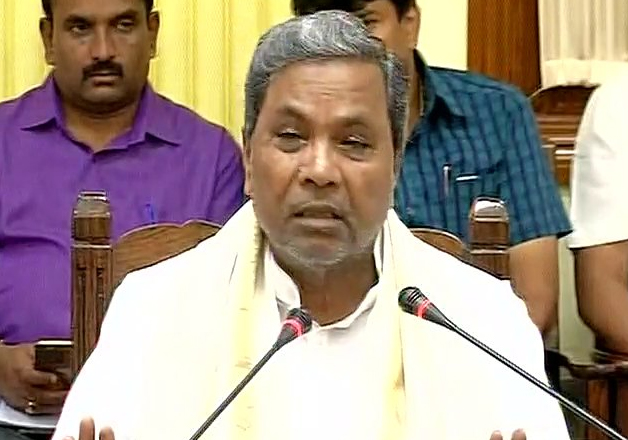 Karnataka Chief Minister Siddaramaiah today strongly condemned violence in parts of the state and urged protesters not to damage public property. 
The Chief Minister said the order of the Supreme Court is 'hard to follow' but his government will 'still follow it' as it has full faith in the judiciary.
"It is difficult to implement the Supreme Court order, but we will make sure there is enough drinking water for Bengaluru, Mysore, Mandya, other Cauvery basin area," the CM, who chaired an emergency Cabinet meet in the state capital this morning, told reporters.
When asked was water released today, he replied, "Yes we have been releasing water today, on and off."
The Supreme Court yesterday modified its earlier order, directing the Karnataka government to release 15000 cusecs of water to Tamil Nadu, and directed the Siddaramaiah government to release 12000 cusecs of water for farmers. 
However, the order didn't quell the pro-Kanadda protesters who vandalised public property and torched several vehicles to protests the court's order.
Siddaramaiah informed that he has written a letter to Prime Minister Narendra Modi seeking his intervene in the matter. 
"I have asked for an appointment immediately (with the PM). Most probably I will meet him tomorrow," Siddaramaiah said, adding that he has requested the Prime Minister call Tamil Nadu CM Jayalalithaa as well on the matter.
He once again appealed to the people of state not to damage public property and maintain peace.
"Violence is not a solution to any problem. We have to maintain peace and tranquillity in the society. But problem arose yesterday at Mysore Road even after that, so we brought in more security forces today," he said.
In sensitive areas where Ganesh Chaturthi, Onam and Bakrid are being celebrated we have deployed security forces, the CM said.
He also sought media's cooperation in bringing the situation to normal. 
"Please join hands with the government. If you don't show volatility it will help. Bengaluru is not just capital for Karnataka but an international city," he said.
Whoever lost his or her life in police firing, the CM said, will get Rs 10 lakh compensation.
Meanwhile, the I&B Ministry has issued advisory appealing media to restraint from telecasting material which could ignite passions and create law and order problem.