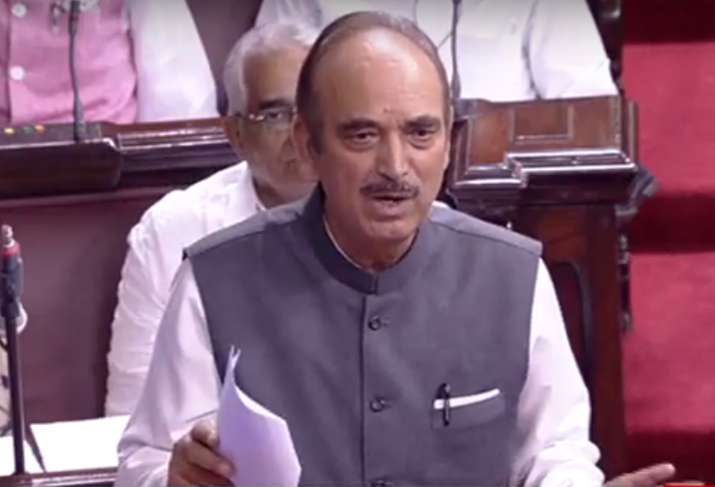 New Delhi: The recent unrest in Kashmir dominated the debate in Parliament on the first day of Monsoon session. Ghulam Nabi Azad, senior Congress leader and Leader of Opposition in the Rajya Sabha, expressed concern over the treatment of civilians in the Valley. 
Azad said that the prevailing situation in the Valley is troubling and urged the state government to exercise restraint in using disproportionate force while dealing with protesters.
Speaking during the debate in Upper House, Azad said that the Congress party stands with the Centre in ending militancy in Kashmir, but they do not endorse the way civilians are being treated.
"Should locals be treated the same way we treat militants? Should same bullets that are used on militants be used on innocent people of J&K?" Azad said.
"Governments are run on trust and faith but people of Jammu and Kashmir have a sense of mistrust towards the current government. I am not saying that Kashmiri people had complete faith when Congress was in power, but there was a sense of trust in some corner," he said while comparing the two governments. 
He added that pellet guns were not used during the Haryana riots despite large-scale violence across the state. Azad also accused the ruling party of vitiating the atmosphere in the Valley by making rash statements.
"We must ensure that the government's attitude towards the civilians in Kashmir is that of a parent towards their children," he said.
Congress MP Karan Singh, who hails from the state of Jammu and Kashmir expressed concern over the loss of lives in the Valley and said, " What has happened there? The grievous death and injuries to hundreds of people. They are our citizens, if young people are blinded or young citizens are blinded, we have to have some compassion and understanding."
"Is the nation awake and aware of the immensity of what is happening there, and of the depths of the frustration and pain of the people? We have got to share that pain. If we say they are part of India then India has got to share the pain and frustration and the rage that is there and try and see what can be done to look into the matter," he said in Rajya Sabha. 
"Simply to blame everything on the foreign hands, I would summit to this honourable house, is being unrealistic. We have to accept that we are facing a serious problem of trust of credibility in the valley and that problem has to be tackled," Karan Singh, whose father Raja Hari Singh signed the instrument of accession in October 1947, said.
Suggesting that the government should talk to all stakeholders in Jammu and Kashmir, Karan Singh said, "You have got to face the truth with dialogue, It must be a dialogue that cuts cross all barriers, with all stakeholders, There are stakeholders in Jammu and Ladkah also, not only in Kashmir. Within the valley, there are mainstream political parties, there are regional parties, and there are even separatist parties, you must talk to them. Without talking, how can we come to any conclusion." 
For last 10 days, Kashmir Valley has been under curfew after violence in valley following the death of Hizbul Mujahideen militant Burhan Wani. In the ensuing clashes with security forces, 39 persons including a cop have been killed while 3160 persons including 1500 security force personnel have been injured.
Leader of House Arun Jaitley admitted that the situation in Kashmir was a "matter of concern" but rejected the contention that the violence in the valley was a result of the BJP getting into power at the state. 
Asserting that efforts are underway to restore normalcy at the earliest, he said the entire country should speak in one voice at this time and common man should not be made to suffer there. 
Asking the youth to stay away from the agitation which is being held against the killing of a militant, he said, "When thousands of people attack the police, then understandably, there will be action. The fight is between the country and the separatists and common people are standing with the country which is in national interest." 
It is the responsibility of the police on the ground to determine the kind of force that needs to be used to quell mob violence, Jaitley said while blaming Pakistan for promoting violence in the state. 
In his speech, Azad said the government has not learnt from the earlier situation. Reminding that militants were always killed in the state, he said it was a matter of concern that the "present environment" did not exist even during the 1990s and added that youngsters have been killed in all the 10 districts of the Kashmir valley this time. 
The Congress leader alleged that bullets and pellets guns were fired mercilessly and spoke of several "horrifying" pictures being circulated through the social media including that of a senior police officer pressing the neck of a young boy with his boots. 
He said many children, as young as 4-5 years old, were left injured, with some losing their eye-sight while watching the violence from the windows of their house or terrace. 
Asserting that no one including his party supported militancy, Azad said the Congress stood by the government against any action against militancy. 
"But distinction should be made between militants and civilians. The same bullet used to kill militants should not be used to kill children, women and youngsters. Should we treat them as militants? We are with you when it comes to eradication of militants. But we will not be a part of this(heavy use of force against civilians)," he said. 
He said the government earlier, while dealing with militants with a heavy hand, also had the policy of "healing touch". He claimed that the commom people in Kashmir do not have any trust in the BJP. 
Talking about his government when he was the J&K chief minister, Azad said that while his government dealt with militants sternly, it behaved "like parents to youngsters" and did what was required under a democratic set-up. 
He said it was a sign of patriotism on part of Muslims in the country, that despite the highest number of practicing Muslims here, ISIS has not been able to make any headway here except in less than a dozen cases. Both Hindus and Muslims should be proud of this, Azad said. 
He said the situation was simmering for last one and half years. "This is a lava. The lava does not erupt in a day." 
Observing that provocative statements were being made by some BJP-RSS leaders, he said "the Kashmiris see that action is not being taken. The treatment meted out to Kashmiri students in the name of security also plays in role, back in the valley." 
While Islamic preacher Zakir Naik should be probed, those who announced a reward of Rs 50 lakh for his head should also be sent to jail, Azad said.
Azad said the Congress wanted the violence to abate as he appreciated that Muslims in Kashmir did not target the Amarnath Yatra, which helped in this. 
He said when a vehicle carrying Amarnath pilgrims met with an accident, the Kashmiri youth came forward and donated blood. He also cited last week's incident when Muslims in a Kashmir locality broke curfew to carry the body of a Hindu man who had died. 
Reiterating that Kashmir issue cannot be resolved through bullets, Naresh Agarwal (SP) said it was high time for the government to "take a strong decision" and convene an all- party meeting "this evening, tomorrow or day after" to discuss the issue. 
"We are not in favour of politicising the issue. We are with government even in a situation of war against Pakistan. 
We are not here for vote politics. Have courage, take a decision, reform your bad policies and win peoples' confidence. Make it your integral part," Agarwal said. 
Alleging that "the paradise on earth is reeling under curfew" due to political reasons, Agarwal said the situation was such that Pakistan Prime Minister had also issued statements. "Every day, Pakistan raises Kashmir issue in the UN", he said and added that "it is time to take a strong decision." 
"Bring a resolution for peace in Kashmir. Send a parliamentary delegation there, headed by the Home Minister. Listen to the people there, win their confidence," the SP leader said, adding that BJP and PDP had opposing views on several issues and there was a need to tackle the situation urgently. 
Vijila Sathyanath (AIADMK) sought a special package for violence-hit Kashmir besides special opportunities for the youth there. "Government must take immediate steps to restore peace and tranquility there," she said.
Derek O'Brien (Trinamool) blamed the Centre for "mishandling the situation" and demanded that "we must extend all help to the families of ordinary people killed there." 
Expressing deep pain at the death of children, he alleged that unfortunately instead of harnessing the social media for constructive purposes, BJP was busy using it for PR and happy birthday messages. 
"If you want digital India, do not understate the power of social media, else it will be divisive for India. There needs to be a dialogue with hard policing. We need a healing touch. Kashmir is not soil but soul, and keep the soul of Kashmir in mind," he said. 
Taking a jibe at the Prime Minister, O'Brien said all all his efforts in meeting foreign leaders turned to a nought when UN Chief Ban Ki-Moon expressed regret over the loss of lives and injuries in the clashes in Kashmir. The TMC leader called on all parties to exercise "maximum restraint" to avoid further violence and hoped that all concerns would be addressed through peaceful means. 
Sharad Yadav (JD-U) said he was "pained" at the situation in the Valley and killing of 8-10 year old children at the hands of security forces and treatment meted out to women and children. 
"Hand over anyone breaking the law to legal process but you deface someone and no action is taken," he said, asserting that security forces should act within the limits of humanity. 
At the same time, he said the Kashmir problem cannot be solved by force, power or use of the army as it needed a political solution. 
"Why is there a difference between your policy and the one followed by the previous NDA government in tackling the Kashmir issue," he said and added that "political will is needed to resolve the issue". 
He also took a jibe at the BJP-PDP alliance in the state and said that the common minimum programme arrived at should be taken ahead. 
(With PTI inputs)