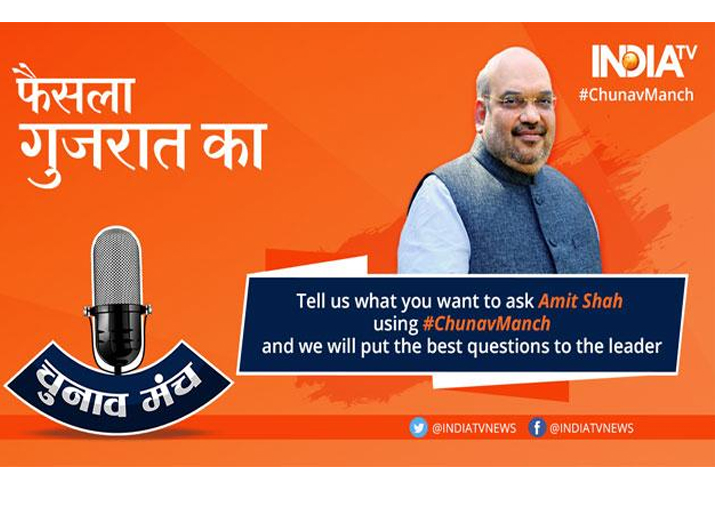 India TV, the Country's leading news channel, is all set to host its mega election conclave "Chunav Manch" in Ahmedabad on Sunday, October 15.
Bharatiya Janata Party (BJP) president Amit Shah will be present here to answer various questions related to his party and government ahead of the Gujarat Assembly polls, slated to be held later this year.
The BJP chief's appearance on India TV is significant because Prime Minister Narendra Modi had in recent past made several visits to his home state and launched a number of developmental schemes including the Bullet Train project connecting Ahmedabad and Mumbai and the Sardar Sarovar Dam.
On the other hand, Congress vice-president is leaving no stone unturned to revive the lost fortune of his party. In recent past, he visited this western state on many occasions and met party workers and addressed a number of rallies in which he accused the BJP of ignoring people of the state. The grand old party is out of power in Gujarat from last two decades.
India TV Chairman and Editor-in-Chief Rajat Sharma will be grilling Shah over various issues related to common people.
Shah is expected to lay down the party's agenda for the polls. Besides, he will also be asked about issues that will feature in the party's election manifesto.
Shah will also be taking direct questions from India TV viewers all across the country. Viewers are requested to took to Facebook and Twitter to ask their question with # (hashtag) #ChunavManch. They are also requested to mention their full name and their city with the question.
The schedule of the upcoming state Assembly elections is likely to be announced soon by the Election Commission (EC). The EC has already announced that Gujarat Assembly elections will be held before December 18 this year. The term of the current Assembly expires on 22 January, 2018.
In 2012 elections, the BJP under the leadership of Narendra Modi had won 115 out 0f 182 seats in the Assembly and the saffron party had garnered 47.85% vote share. The Congress, on the other hand, had won 61 seats with 38.93% vote share.