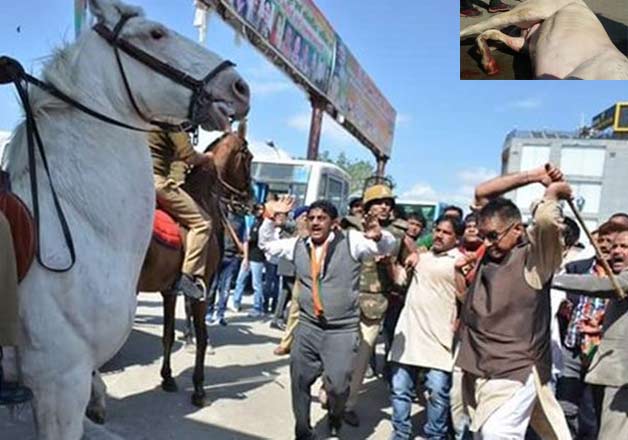 Dehradun: BJP MLA from Mussoorie, Ganesh Joshi was on Monday booked for attacking police horse and breaking its leg' during a high voltage protest against Uttarakhand Chief Minister Harish Rawat.
The MLA mercilessly hit the white police horse leaving him in blood pool, according to reports. The inhuman beating has left the horse with a fractured leg. The animal suffered multiple fractures during the incident near the Vidhan Sabha which occurred during a protest called by the BJP against the state government.
Reports also say that doctors have told the police that the horse's leg may have to be amputated.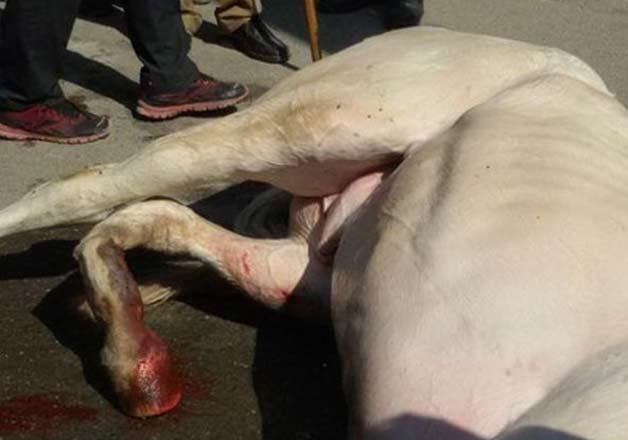 "In the video footage, it is clearly visible that the horse was attacked by the MLA. A case is being registered against the BJP MLA (Ganesh Joshi) and some others," Dehradun Senior Superintendent of Police Sadanand Date said.
"The doctors are saying the horse's leg may have to be amputated," Dehradun SSP added.
"The horse may be given other treatments as well. We are taking opinions of other doctors also. We are trying to give him the best treatment," he added.
He also said that doctors had ruled out early recovery due to multiple fractures in the animal's rear leg.
In the evening, Uttarakhand Chief Minister Harish Rawat visited the city's reserve police lines to check on the horse's condition.
Meanwhile, an FIR has been lodged at Nehru Colony police station against the BJP MLA and his unidentified associates.
However, Joshi later defended his action, saying the horse was not given water throughout the day. "As soon as some water was given to the horse he was fine, he was just thirsty. I am not at fault at all," he said.
He also said the state government was trying to shift focus from real issues by falsely implicating him in the case.
SP (City) Ajay Singh said they had video footage of the incident and action would be taken accordingly. He denied the police had used lathis or horses to disperse the crowd.