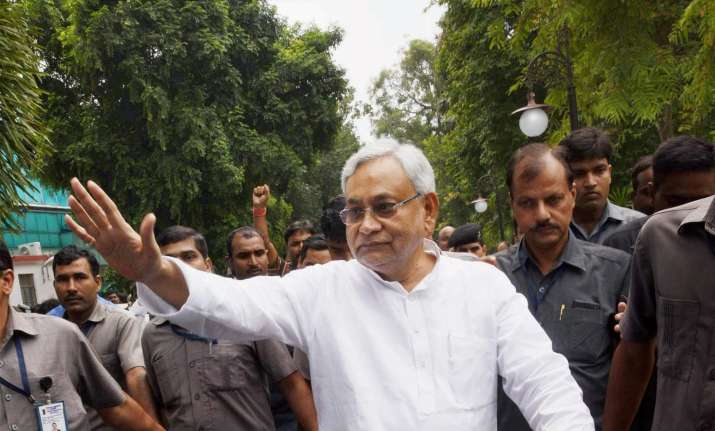 Bihar Chief Minister Nitish Kumar today won the  trust vote in the state Assembly. The numbers were staked in favour of the JD(U)-NDA government headed by Nitish Kumar. In a House of 243 members, Nitish Kumar had claimed the support of 132 MLAs – 71 MLAs of JD(U), 53 MLAs of BJP, 2 MLAs of Upendra Kushwaha's RLSP, 2 MLAs of Ram Vilas Paswan's LJP, 1 MLA of Jitan Ram Manjhi's HAM and three independent MLAs.
As expected, Nitish Kumar won the trust vote with 131 MLAs voting in his favour and 108 opposing his confidence motion. According to reports, one member of NDA could not participate in voting as he was indisposed.
Here are LIVE UPDATES on Bihar Assembly floor test:
01.20pm- Many JD(U) MLAs had said that they will vote for us if the Speaker agrees for secret ballot but it was not permitted: Tejashwi
01.18pm - The mandate of people was for grand alliance. Nitish Kumar and BJP have insulted that mandate. People of Bihar are feeling cheated, insulted. The chief minister and BJP leaders failed to answer any of my questions: Tejashwi Yadav after trust vote
01.08pm - Nitish Kumar wins trust vote, 131 MLAs vote in his favour, 108 against him
12.38pm - Voting begins in Bihar Assembly on Nitish Kumar's trust vote, Speaker agrees for division of votes
12.34pm - We have taken this decision in the interest of Bihar. We dissociated ourselves from the alliance when we realised that we can't continue to run it: Nitish Kumar
12.33pm - Kursi rajbhog ke liye nahi hoti, seva karne ke liye hoti hai: Nitish Kumar
12.32pm - I said please come up with answers to allegations. They were not in position to come up with answers. People are the biggest judiciary : Nitish Kumar
12.31pm - Secularism is not for covering up corruption, says Nitish Kumar
12.30pm - Nitish Kumar begins his speech amid shouting by RJD members
12.00 - Didn't you feel ashamed in sitting with Sushil Modi, Tejashwi asks Nitish
11.59am- Lalu ji suffered from  "Bhai-moh" and not "putra-moh". That's why Nitish Kumar was made CM despite RJD having more number of seats compared to JD(U). We made him CM to take on communal forces: Tejashwi Yadav
​11.48am- On one hand, Nitish is hugging the murderers of Mahatma Gandhi and on the other hand, he is celebrating his birth centenary: Tejashwi Yadav 
11.50am- Who talked about "Sangh mukhta Bharat"? CM has surrendered to RSS. He has shown his back in the battle field. I'm only 28 but am not scared. I would prefer to be buried than to cross over to BJP: Tejashwi Yadav
​11.47am - We were not given opportunity to form the government. Nitish was first given time in the evening for taking oath but it was suddenly changed to morning: Tejashwi
11.41am- There were many cases on Lalu Ji. Did Nitish not know that RJD is a corrupt party?: Tejashwi Yadav
​11.40am - Nitish was my uncle and will continue to be my uncle but we will continue to oppose him politically: Tejashwi
11.39am - ​Will a person occupying constitutional post resign if an FIR is filed against him? Will you make such rules with PM Modi? : Tejashwi Yadav
11.33am- Nitish Kumar calls him anti-Dalit, anti backward
11.30am - The planning for Nitish Kumar's switch over to BJP was being done for a long time. PM Modi failed to fulfil his promises. With what face he would have come to Bihar? That's why Nitish did all this: Tejashwi Yadav
11.23am - This drama has been enacted for image make-over of Nitish Kumar. He never asked for my resignation. No phone call was made in this regard: Tejashwi Yadav
11.17am - Nitish Kumar could not dare to sack me. We have 80 MLAs. We have self-respect: Tejashwi
11.09am - Tejashwi refers to Nitish as 'Boss' and accuses him of betrayal. 
11.07am - Why did you waste 4 years of Bihar, Tejashwi Yadav asks CM Nitish Kumar
11.05 am - Tejashwi Yadav speaking  in Assembly on trust vote
11am - Nitish Kumar moves trust vote
10.57am - Tejashwi Yadav sits on dharna outside Assembly gate
10.44am - Deputy CM Sushil Kumar Modi arrives in Bihar Assembly ahead of trust vote
10.42am - RJD MLAs are shouting slogans against Nitish Kumar inside Assembly premises, 
Patna: RJD MLAs protest outside #Bihar assembly ahead of CM #NitishKumar's floor test. pic.twitter.com/wJGCOHDvxQ

— ANI (@ANI) July 28, 2017
10.30 am - Nitish Kumar arrives in Assembly
9:51am – Speaker Vijay Kumar Chaudhary arrives in Assembly
9:31am – 17 JD(U) MLAs likely to cross-vote in favour of Nitish Kumar, according to India TV sources
9:16am – Sharad Yadav refuses to comment on developments in Bihar
8:00am - The RJD camp hopes for cross-voting by those JD(U) MLAs who are not happy with Nitish Kumar's decision to join hands with the BJP.
7:26am – Sushil Kumar Modi will leave for New Delhi after the trust vote to finalise the names of ministers from BJP quota
7 am - Former Deputy Chief Minister Tejashwi Yadav will lead RJD legislators to Assembly while Congress MLAs will leave for Assembly from the residence of Sadanand Singh