Follow us on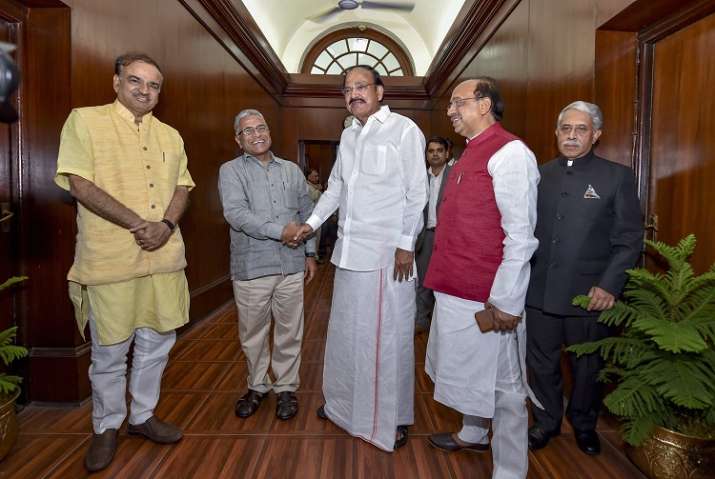 Cracks in the Opposition have started to appear after the poll for the post of deputy chairman Rajya Sabha held on Thursday.
Many opposition parties feel their candidate could have got more votes had the Congress nominated a member from any of its supporting parties.
However, they stressed that the NDA candidate's victory was not a setback to their unity efforts against the Modi government.
Murmurs of dissatisfaction could be heard in the galleries of Parliament with some leaders questioning why Congress President Rahul Gandhi did not reach out to parties like the AAP, which could have extended support, like Bihar Chief Minister and JD(U) chief Nitish Kumar did by calling up BJD and TRS leaders, reported news agency PTI.
[ALSO READ] PM Modi congratulates Harivansh Narayan Singh, says it's 'gladdening' that he got support across party lines
Meanwhile, ANI quoted AAP MP Sanjay Singh as saying, "Looking at Congress's attitude we have decided to abstain from voting for Rajya Sabha Deputy Chairman, Congress is the biggest obstacle in Opposition's unity." 
Also, some leaders believe a Congress member as opposition candidate closed the chances of getting votes from some parties who didn't wish to be seen close to any camp.
[ALSO READ] Newly elected RS Dy Chairman Harivansh hopes for constructive debate, consensus in Upper House
"We still are united in our opposition to the BJP and NDA. Today's result shows the desperation of the government. the PM had to be on phone to get votes for the NDA candidate. The election is certainly not the end of the world for us. These are just the warm-up matches for the world cup and it should be played and there the voters are different," TMC leader Derek O'Brien said, reported PTI.
Securing 125 votes, ruling NDA candidate and JD(U) member Harivansh Narayan Singh was elected as the Deputy Chairman. His opponent, BK Hariprasad got 105 votes. The post of the deputy chairman for the Upper House was lying unoccupied since the retirement of P J Kurien on July 1.
WATCH VIDEO: RS Deputy Chairman Election loss to cost Congress in 2019 Lok Sabha Election?
WATCH FULL VIDEO: