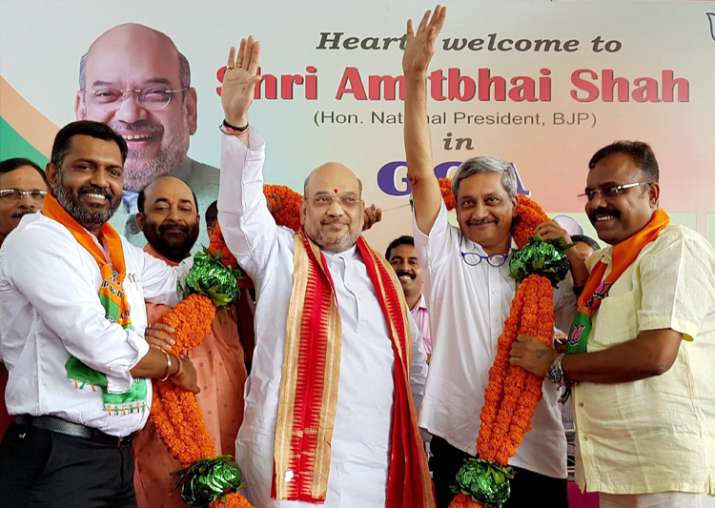 A complaint has been filed against Bhartiya Janata Party (BJP) President Amit Shah for addressing a party meeting at Goa's Dabolim International Airport premises on Saturday. A lawyer has filed a complaint against Shah alleging misuse of an airport controlled by the Indian Navy for political purposes.
In a complaint addressed to Secretary of Civil Aviation and Goa Chief Secretary and Director General of Police, lawyer-activist Aires Rodrigues has alleged that holding a party meeting, which was attended by over 2,000 people, was a violation of Section 141 (Unlawful assembly) of the Indian Penal Code and put passengers at the airport to inconvenience.
"People who were arriving or departing from the airport were restrained by the blockage due to the public meeting, as also the airport being considered a security installation, no public meeting could have been held and that it also amounted to a violation of the other enactments covering vital installations like airports," the complaint reads.
Congress seeks probe into Amit Shah's 'gross abuse of power'
Congress has also demanded probe into the "unprecedented and unacceptable gross abuse of power". 
"We strongly condemn the act of the BJP holding a meeting at the Goa airport complex which was addressed by their president Amit Shah in the presence of Chief Minister Manohar Parrikar," All India Congress Committee secretary Girish Chodankar said in a statement issued in Panaji.
Terming this a "total and complete abuse of power", he said, the BJP has not set a right example of good governance by this act. Chodankar demanded the officials of the Airport Authority of India (AAI) who allowed the meeting to be held at the airport complex be investigated. 
Congress Rajya Sabha MP Shantaram Naik has also demanded that the Civil Aviation ministry should file a FIR against Shah and Goa Chief Minister Manohar Parrikar for hosting the "illegal" meeting.
"Since the land occupied by the Airport Authority of India and is operated by the ministry of Defence, Defence Minister Arun Jaitley should invoke the Defence of India Act, apart from the provisions of the Indian Penal Code and file another FIR," Naik has said in a statement issued here.
While BJP spokespersons were unwilling to comment on the issue, a party leader said the meeting, which was held on Saturday morning to welcome Shah, was organised "after getting all due official clearances". 
Shah, who is on a two-day visit to the coastal state, was accorded a warm welcome outside the airport where he addressed a gathering of party workers.