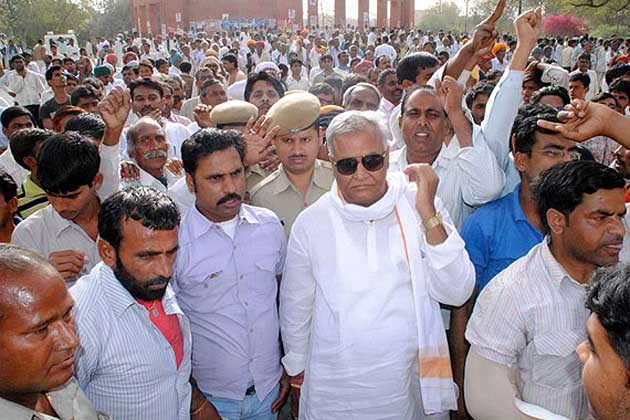 In a significant political development ahead of the Assembly elections in Rajasthan slated to be held later his year, National People's Party MLA Kirodi Lal Meena, who had left the BJP in 2008, has decided to rejoin the saffron party. 
The leader, who is seen as the patriarch of the Meena community, held a meeting with state Water Resources Minister Rampratap at the latter's residence in presence of Transport Minister Yunus Khan and Agriculture Minister Prabhu Lal Saini, which went on till late last night. 
After the meeting, when he was asked whether it was a "homecoming" for him, Meena said, "Yes, it is happening. I have conveyed my points to the party." 
The BJP's state president Ashok Parnami said his party's national leadership has been informed about it, but since they were busy yesterday, the decision could not be announced. 
"We will follow the directions from the central leadership as and when we receive a message on their decision," he said. 
"Meena would complete formalities to join and merge the party (NPP) with the BJP today," his spokesperson said. 
NPP has four MLAs -- Kirodi Lal Meena (from Lalsot), his wife Golma Devi, (from Rajgarh-Laxmangarh), Geeta Verma (from Sikrai) and Navin Pilania (from Amber). 
Three of them may join the BJP, but Navin Pilania is unlikely to join the ruling party in Rajasthan. 
Kirodi Lal Meena (66) had left the BJP in 2008. In that year's Assembly elections he got elected as Independent candidate. His wife Golma Devi also won in the polls as Independent and became a minister of state in the then Ashok Gehlot government. 
In the 2009 Lok Sabha polls, Meena got elected as Independent candidate. In 2013, he joined the NPP and became its state convener. The party won four seats in 2013-Assembly elections. 
Of the 200 assembly constituencies in Rajasthan, there are more than 40 seats mostly in eastern and southern parts of the state which are dominated by the Meena community.