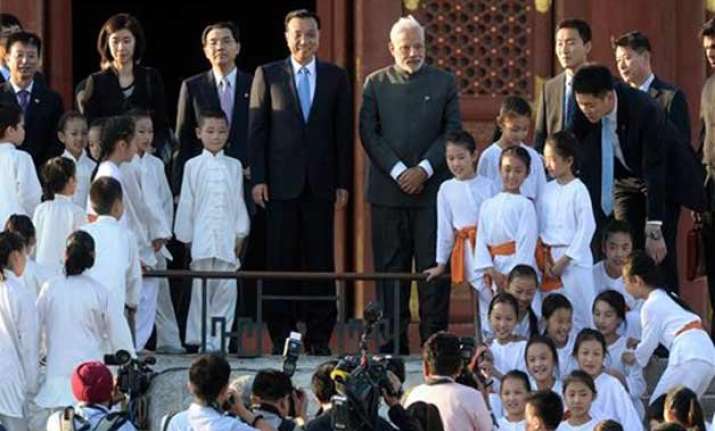 Beijing:  Prime Minister Narendra Modi today attended a joint Yoga-Taichi event here with his Chinese counterpart Li Keqiang and asserted that the disciplines are a unique medium to connect the cultural heritage of the two countries.
Modi, who held bilateral bilateral talks with Li earlier in the day, visited the Temple of Heaven where the joint Yoga-Taichi event took place.
"I appreciate Prime Minister's choice for this programme as this is the Temple of Heaven and if you want to attain heaven, body and mind need balance. Yoga is an art to balance our body and mind. Today frustration is looming large on every part of the world and yoga is the way to tackle this problem," Modi said while addressing the students at the event.  
Indian and Chinese children performed Yoga and Taichi as the two premiers looked on.
"This is an amazing coincidence that Chinese children are performing Yoga whereas Indian children are performing Taichi.  
This is an amazing medium to connect our cultural heritage. We have to take this further," Modi said.
Modi, in his address, also made a mention of the International Yoga Day, saying, "On June 21, world will understand the real meaning of Yoga and holistic care." "I put forward a resolution about the International Yoga Day in the United Nations in September last year with 177 nations being co-sponsors and passed in minimum days," Modi said and noted that China was a co-sponsor of the resolution.  
"Yoga is a remedy. Whether it is Yoga or Taichi, they have the potential to give a new life to the human mind that is under distress," he said.
After the event, Modi also took a selfie with Premier Li.  Modi also took a number of selfies with students and children at the event.
The Prime Minister sportingly took selfies with smartphones of children as they jostled for getting clicked with Modi.