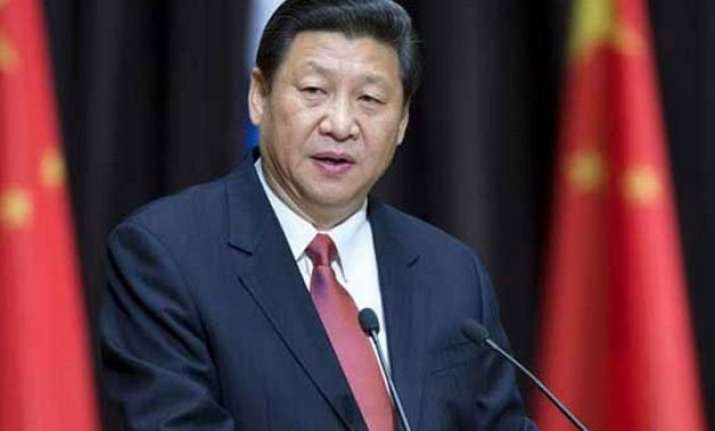 Islamabad: Chinese President Xi Jinping today lauded Pakistan for its anti-terror campaign, especially for its support in the crackdown on separatists in the restive Muslim-dominated Xinjiang province, at a time when India is pressing Islamabad to contain cross-border terrorism.  
Xi, on a two-day historic state visit to "all-weather" ally Pakistan, addressed a joint session of Pakistan's parliament which is the first for any Chinese president.
Both China and Pakistan "share a common stake in security", Xi told parliament in a speech that was aired live nationally as he linked economic cooperation with security.
"Over the years Pakistan has overcome all kinds of difficulties and contributed greatly to the security and stability of China's western border areas and this is something that we shall never forget," Xi said.
He also praised Pakistan's anti-terror effort, saying that Islamabad has always stood at the frontlines in the fight against terrorism and has made huge sacrifices to that end. Xi's comments came as Pakistan vowed to step up cooperation in tackling terrorism.
"We will fight together to eliminate the menace of terrorism. Our joint efforts against terrorism have succeeded so far, but we have to intensify the efforts to achieve our goals," Sharif told parliament.
"Our defence ties are strong; and they are poised to become stronger in the years to come," he added.  Yesterday, the Pakistani premier termed China's security "as important to us as Pakistan's security" as the two countries upgraded their relations to "all-weather ties".
Interestingly, Xi's praise for Pakistan comes at a time when India is "extremely disappointed" with the country for letting 2008 Mumbai terror attack mastermind Zaki-ur Rehman Lakhvi walk free earlier this month.  India said the decision "eroded" the value of assurances repeatedly conveyed to it by Pakistan on cross-border terrorism.
Xi, also the General-Secretary of ruling Communist party, lauded Pakistan for standing with China from the earliest days of founding of the People's Republic of China and said Islamabad stood by Beijing at a time when the communist nation was isolated on the world stage.
He described Pakistan as China's "dependable" friend as he announced long-term support for the cash-strapped country's economic development.
The two countries should support each other's core interests, Xi said, noting that China firmly backs Pakistan's territorial integrity.
Xi said China and Pakistan will always move forward together and the Chinese people will always stand shoulder-to- shoulder with the Pakistani people.
The Chinese president, who received a standing ovation by lawmakers after his speech, said the ambitious USD 46 billion China-Pakistan Economic Corridor (CPEC) has offered Pakistan a "historic development opportunity".
"Today Pakistan has a historic development opportunity.  Prime Minister Sharif has crafted the vision of the Asian tiger dream. It outlines a great blueprint for Pakistan," Xi said as he wrapped up his first foreign visit this year.
This is also the first trip by a Chinese president to Pakistan in nine years that saw as many as 51 agreements signed between the two sides.
In a joint statement issued after Xi's meeting with his Pakistani counterpart Mamnoon Hussain and Sharif yesterday, China reaffirmed its support and solidarity for the sovereignty, independence and territorial integrity of Pakistan.
China also said in the statement that it appreciates Pakistan's efforts for the peaceful resolution of all outstanding issues with its neighbours, without mentioning India.
The CPEC was launched despite serious security concerns in China's restive Muslim-dominated Xinjiang province as well as the Taliban threat in Pakistan.
Muslim separatists from Xinjiang, some of whom have been trained in terror-training camps in Pakistan, have been waging a low-intensity insurgency against Chinese rule in resource- rich northwest region.
China is worried about the separatists, who it blames for a series of deadly attacks across the country.
During his address today, Xi referred to the assistance offered by the two countries to one another in the events of natural disasters.
He said he brought warm greetings and best wishes to the "brotherly people of Pakistan" on behalf of the 1.3 billion people of China during his first visit to Pakistan.
"Pakistan and China's struggles have brought their hearts and minds together," he said.
He outlined the vision of Chinese development and said that China wants to go ahead by forging "win-win" cooperative deals with other countries, especially neighbours. Xi also mentioned his last year's visit to three regional countries, including India.
He said China will open up all sectors of its economy. He said South Asia has great potential and China was eager to have close cooperation with all countries of the region.