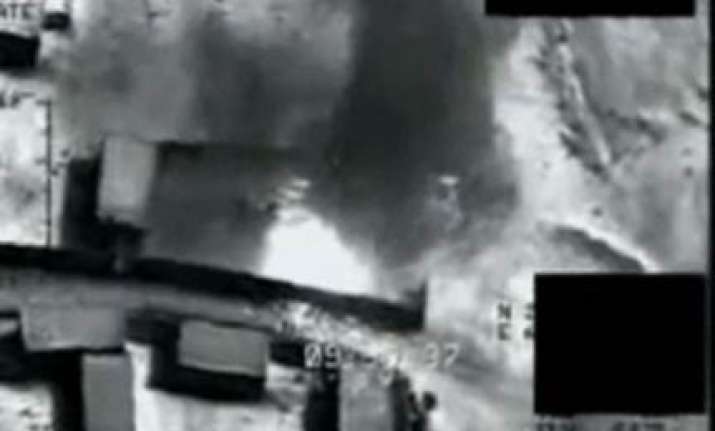 America's  SkyNews has telecast spine-chilling footage on Thursday showing the pinpoint accuracy of a US Air Force drone, controlled from a Nevada air base,13,000 kilometres away,  half way round the globe,  destroying a  Taliban bomb-making factory in Afghanistan, The New York Post reported.
The strike by an unmanned Reaper aircraft was so precise the walls of the compound surrounding the building remained standing, the report said.
Reaper drones provide backup for soldiers in southern Afghanistan and are operated from Creech Air Force Base, Nevada, by the British Royal Air Force's No. 39 Squadron.
Images filmed in September showed the drone aircraft taking aim at a building used by the Taliban, before it was blown up by a missile.
The UK's Ministry of Defence said the site was used by Taliban insurgents to build improvised explosive devices (IEDs), which are responsible for the majority of allied deaths in Afghanistan's Helmand province.
Analysts calculated some 4,500 pounds of explosive material was destroyed in the attack -- enough to make more than 100 IEDs, the ministry added.
No one was hurt in that incident, NATO forces claimed, but a separate missile strike revealed by the defense department did result in a militant's death.
Senior British military spokesman Major General John Lorimer said, "As a soldier on the ground, to know that you have got something like that above you is incredibly reassuring."