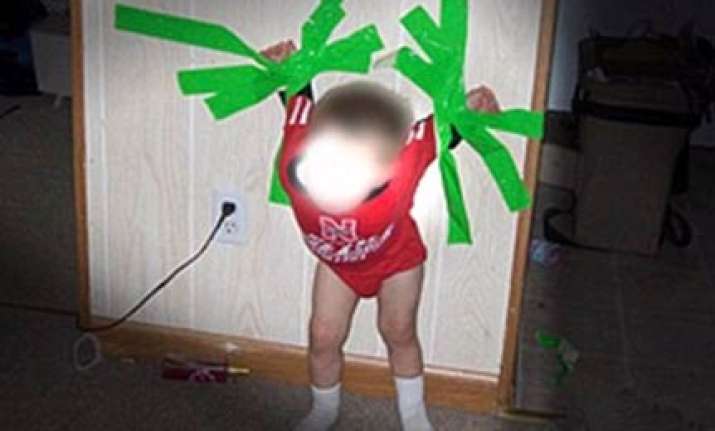 These are the first shocking photos of a boy being subjected to unbelievable cruelty by his mother and her boyfriend.
The 22-month-old toddler was stuck to a wall in his home by industrial duct tape after his mother had been 'partying' with her lover at her home near Lincoln, Nebraska.
Jayla Hamm,18, even held her helpless son against the wall while boyfriend Corde Honea,19, taped his wrists, legs and body.
Hamm and Honea then took these pictures of the crying child and further taunted him by taping his favourite drinking cup just outside his reach.
The boy's arms are restrained behind his back, his hands taped to the wall. His face is obscured in this image but police say he was terrified
Mother Jayla Hamm and boyfriend Corde Honea taped the boy's body and legs as well - with the adhesive making direct contact with his skin.
The couple's callous actions were only discovered when Hamm showed the pictures to a friend, who immediately alerted police.
Police then seized the digital camera containing the photos of the boy.Corde Honea helped his partner abuse the boy
The face of the child has been purposefully obscured in these images but police said he was visibly distressed and crying while pinned to the wall with the adhesive tape.
One picture shows him straining to release himself from his bonds, his arms bent back in an uncomfortable position as his hands are taped to the wall.
Another shows the boy now strapped to the wall with tape across his little body - with one strip of the strong adhesive tape coming into direct contact with the skin on his legs.Police said the couple, who were 'were high after a night of partying',  taped the child to the wall for their entertainment - not to discipline him.
 Hamm and Honea pose with the toddler as he struggles with the tape binding his hands
Further cruelty: Hamm and Honea added to the little boy's torment when they taped his favourite drinking cup on the wall... just out of his reach
The shocking case follows a viral that swept the internet of another, unnamed little girl duct taped to the wall.
Judge Paul Korslund sentenced Hamm to 10 days in jail and two years' probation.
He told her: 'What makes it shocking in particular is there's an expectation that it's a matter of common sense that a parent would protect her child from humiliation and abuse.' The boy has been placed in state custody.
Honea was sentenced to 36 to 60 months in prison for intentional child abuse. He was also jailed for 24 to 60 months for a separate charge of burglary and 12 to 24 months for possession of a stolen firearm.
This viral image of another unnamed baby girl duct taped to a wall has been circulating on the internet.  
Before sentencing, Honea told the court: 'I can't fully believe what happened on those days. I do take full responsibility. I do find it even more troubling that I can do that.'
The prosecutor in the case said: '[The boy] was terrified. You can see that from looking at the pictures.'  
Police chief Bruce Lang said: 'They did it because they thought it was funny.'
Watch Video