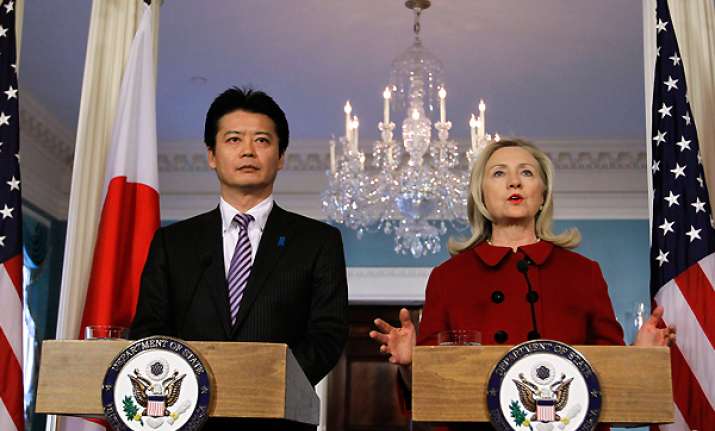 Washington, Dec 20: The United States and Japan today pledged to deepen their strategic partnership with India.

"On India, as the Secretary (of State Hillary Clinton) suggested, we affirmed that Japan and the US are deepening strategic relationship with India," visiting Japanese Foreign Minister Koichiro Gemba told reporters during a joint press conference with Clinton at the Foggy Bottom headquarters of the State Department here.

"As a specific example of collaboration, a Japan-US-India trilateral dialogue will be held at the working level here in Washington, DC today," he said.

In the first ever trilateral meeting, India-US-Japan will be meeting in the same building where the diplomats from the two countries met.

"Later today Japanese and US officials will meet with their counterparts from India for our first-ever trilateral meeting," Clinton said.

In an interview to the PTI last week, Assistant Secretary of State for East Asian and Pacific Affairs, Kurt M Campbell had said that the three countries were slated to discuss a number of issues: larger and strategic development in Asia, trends, economic, military, strategic.

"First it is obviously in the interest of all three countries to keep in close touch with respect to developments of Myanmar (Burma). It's important to all three countries," he said.