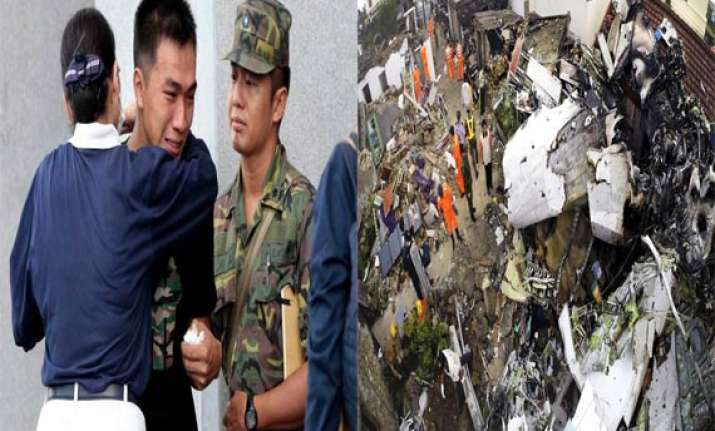 Xixi, Taiwan: The 10 survivors of Taiwan's worst air disaster in more than a decade include a 34-year-old woman who called her father after scrambling from the wreckage and seeking help at a nearby home.
"She called me on the phone to say the plane had crashed and exploded but that she had already crawled out and I should come right away to get her," said Hung's father, Hung Chang-ming, who lives just a few hundred meters from the crash site.
"When I was halfway there the fire was still really big, but it was smaller when I arrived on the scene," Mr. Hung Chang-ming told reporters. "There were two other injured outside and the first ambulance had already taken away three, including my daughter."
Other relatives weren't so lucky, some recalling the last phone conversations with their loved ones.
Shu Chi-tse said he had spoken to his son, Shu Chong-tai, just before the flight left the southern city of Kaohsiung on Taiwan's main island for a short ride west across the Taiwan Strait.
"He is a good boy. He cares for me and his mom. He loves his grandma a lot," Ms. Shu said.
Among the dead were all four members of the flight crew, a family of six and a family of four. They included several children, like 9-year-old Ho Po-yu, who was returning home to Penghu with his mother after attending a summer camp for young choral singers.
Stormy weather and low visibility are thought to have been factors in the crash of the twin propeller ATR-72 operated by TransAsia Airways.
The investigation is expected to focus on a four-minute gap between the pilot's request for a second approach and the plane's crashing into village homes at 7.10 p.m., during which visibility dropped by half.
One of the questions is why did the pilots decide to proceed with the flight despite rough weather on the heels of a typhoon that had forced the cancellation of about 200 flights earlier in the day. However, aviation authorities said conditions were safe for flying and two other planes had landed at Penghu that day prior to the crash.
The mother of one of the victims screamed at TransAsia chairman Vincent Lin when he arrived to pay respects at the funeral hall on Friday.
Lin kneeled down, bowed to the woman and apologised.
"Give me back my son, he is only 27 years old . He is still young, but now he is lying there at the morgue. I want my son back," she cried.
"This is an unpredictable tragedy. The priority for us is to assist victims' relatives," Mr. Lin later told reporters as Buddhist monks conducted rituals for the dead.
Local media reported on Friday that the plane's cockpit voice recorder and flight data recorder had been sent to the main island of Taiwan for analysis. One of the devices was damaged in the crash and ensuing fire, and it wasn't immediately clear when results of the investigation would be made public.
The TransAsia crash was Taiwan's first deadly civil aviation accident since 2002, when a China Airlines plane went down shortly after takeoff, killing 225.