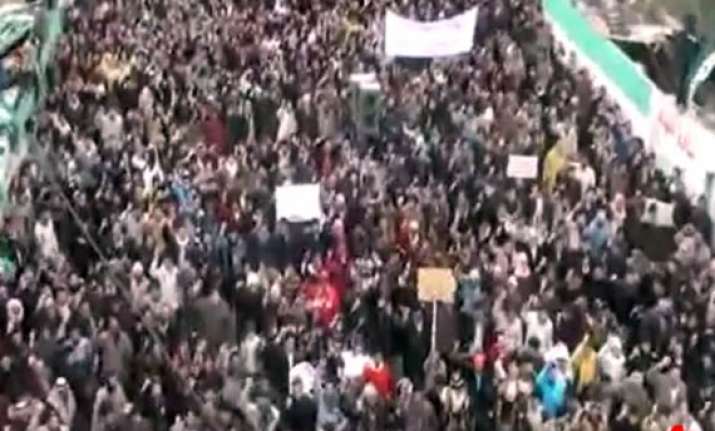 Damascus, Dec 31: Syrian forces were accused of firing nail bombs to disperse protesters on Friday as tens of thousands flooded the streets across the country in a bid to make their voices heard by Arab monitors. 

The protesters called for the overthrow and prosecution of President Bashar al-Assad, whose autocratic regime has been blamed for the deaths of more than 5,000 people since pro-reform protests erupted in March.

Activists urged the Arab monitors, who this week started a mission to oversee an Arab League plan to end the bloodshed, to do more to protect civilians from regime forces which they said killed another 13 civilians on Friday. 

"We urge you to make a clear distinction between the assassin and the victim," activists of the Syrian Revolution 2011 said on their Facebook page.

"Our revolution which was launched nine months ago is peaceful," they said.

According to the Syrian Observatory for Human Rights, monitors visited Idlib, Hama, Daraa and the Homs neighbourhood of Baba Amro on Friday.

State television said they also went to Hama and spoke to wounded people in a government hospital.

The mission has been the focus of controversy, with some opposition members unhappy with the choice of veteran Sudanese military intelligence officer General Mohammed Ahmed Mustafa al-Dabi to head it.

Dabi this week ruffled feathers by saying Syrian authorities were so far cooperating with the mission and by describing his visit to Homs as "good."

"The observers must remain in the cities they visit to protect civilians," said prominent human rights lawyer Haytham Maleh, who is a member of the main opposition umbrella group, the Syrian National Council.

Speaking to Arab news channels, Maleh said the Arab League must increase the number of monitors to ensure they can verify Assad's regime is implementing all the terms of the bloc's plan to end the violence.

These include the withdrawal of troops from all towns and cities that have been the focus of disturbances, protecting civilians, and the release of detainees, as well as opening a dialogue with the opposition.

Around 66 monitors are currently in Syria but there are plans to deploy between 150 and 200 observers.

Reporters Without Borders said the mission must visit journalists and bloggers being held by the regime and, in a statement, provided a "non-exhaustive" list of some 15 journalists it believes are in detention.

The media rights group said it was relieved by the reported release of Jehad Jamal, a blogger also known as "Milan," who had been held since October 14, but said the observers must "interview those who have been freed after months in detention or else this mission will be just a sham."

Friday's dead included at least 11 civilians killed as security forces opened fire to disperse protesters, and two more killed along with two army deserters in an ambush by government troops, a watchdog said.

Huge demonstrations rocked northwestern Idlib province and Douma, a Damascus suburb where protesters clashed with security forces who fired "nail bombs" to disperse them, the Observatory said.

At least 24 protesters were hurt when security forces fired "nail bombs to disperse tens of thousands of demonstrators in Douma," the Britain-based watchdog said, adding that protesters "hurled stones" in retaliation.

The report could not be independently verified.

Security forces also fired "stun grenades and tear gas" in Douma as 60,000-70,000 demonstrators headed to city hall, which the Arab observers visited yesterday.