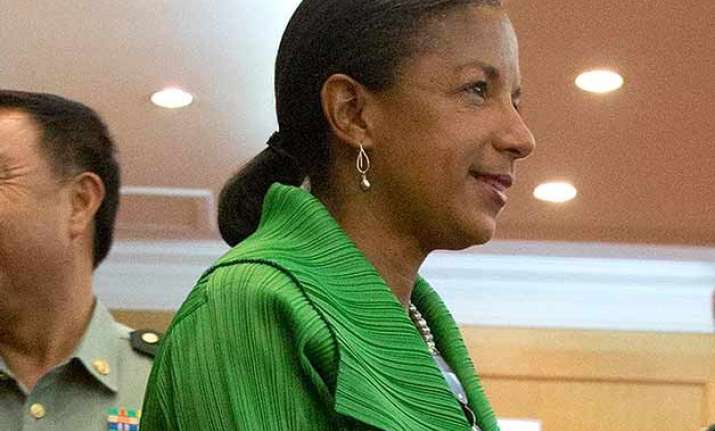 Islamabad:  Prime Minister Nawaz Sharif today told US National Security Advisor Susan Rice that Pakistan wants a "meaningful" dialogue with India on all outstanding issues, as she "encouraged" Islamabad to advance regional peace and stability.
In his meeting with Rice, Sharif, while talking about ties with India, informed the US delegation the reasons behind the cancellation of talks between NSAs of India and Pakistan, Dawn News reported.
Sharif said Pakistan wants to hold a "meaningful" and "objective" dialogue on all outstanding issues with New Delhi.  Rice arrived in Pakistan on a day-long visit to exchange views on various matters and prepare agenda for Sharif's visit to the US in October.
A statement by Sharif's office, that made no direct reference to his comments on ties with India, said the meeting
"focused on matters of bilateral interest and the future of Pakistan-US relations."
"The situation in the region also came under discussion," it said without giving details.
Rice, before leaving for Washington, tweeted, "InIslamabad today, discussed how to deepen cooperation to tackle shared priorities. Encouraged Pakistan to advance regional peace and stability."
During her visit here, Rice held talks with the top Pakistani leadership including Prime Minister Sharif, her counterpart Sartaj Aziz and army chief Gen Raheel Sharif.  Media reports had said the US National Security Advisor was making an "emergency visit" to Pakistan as part of the American effort to reduce the ongoing Indo-Pak tensions.  
The White House has, however, asserted that Rice's visit was planned in advance and this was not emergency visit due the increasing tension.
Pakistan had earlier this month called off the scheduled NSA-level talks at the last minute over India's refusal to allow Islamabad to have consultations with Kashmiri separatists.
During his meeting with Rice, Sharif said the US is an important partner of Pakistan in all areas especially economy, defence and counter-terrorism.
He said Pakistan sees its ties with the US as a partnership which is in the interest of the two countries, the region and the world. Sharif said he was looking forward to his US visit in October as an opportunity to strengthen bilateral ties.
Rice later also met Prime Minister's Adviser on National Security and Foreign Affairs Sartaj Aziz. During the meeting, wide-ranging discussions were held on the regional situation especially in the wake of emerging security environment in Afghanistan and the stalemate in Indo-Pak dialogue process.  In her meeting with Gen Raheel Sharif, matters of mutual interest including security situation in the region were discussed.