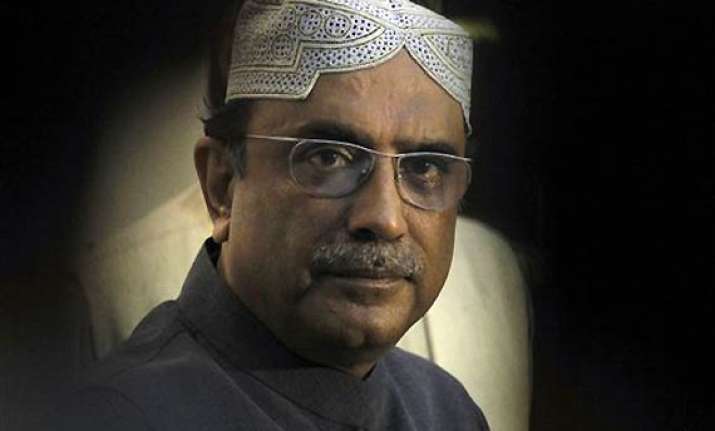 Dubai/Islamabad, Dec 8: Speculation about Pakistan President Asif Ali Zardari's future continued to run rife today despite US assertion that "a silent military coup" against him was unlikely.

56-year-old Zardari continued to be under treatment in a Dubai hospital for a heart condition amid reports that he was stable and may return home over the weekend.

That, however, did little to dampen rumours and speculation that he had suddenly left Pakistan under some kind of safe passage deal, fearing a coup by the military which is said to be upset with him over a number of issues, the latest being the secret memo handed to Obama administration, seeking its intervention to avert a military takeover. 

Zardari is admitted at the American Hospital in Dubai after he flew out from Islamabad following heart complications on Tuesday.

In Washington, downplaying Zardari's sudden departure from home, State Department spokesman Mark Toner said that the US had no reason to believe that his trip to Dubai was political. 

"Our belief is that it's completely health-related," Toner said at a regular daily briefing in Washington. 

Asked about reports in Pakistan and a section of the US media that Zardari was on his way out, he said: "No concerns, and no reason to believe" that a silent military coup was in the offing in Islamabad.

Zardari's sudden departure to Dubai triggered intense speculation, with The Cable—a blog of US magazine 'Foreign Policy'  -- saying that there is "growing expectations inside the US government that Zardari may be on the way out".

Pakistan's Ambassador to the UAE Jamil Ahmed Khan said investigations done so far are essentially within normal limits and his condition is stable.

Khan told Khaleej Times that Zardari's medical tests are satisfactory, but he would remain in hospital under observation.

"A routine evaluation of the President's health is being carried out at the hospital and he is being checked for an existing heart condition. He will remain in hospital until investigations are complete," the Ambassador said. 

Gulf News quoted officials as denying reports that Zardari underwent angioplasty. "Actually the President underwent an MRI (Magnetic Resonance Imaging) to check if he has a blood clot in the brain.

Pakistani Prime Minister Yousuf Raza Gilani while addressing the Federal Cabinet meeting in Islamabad today said Zardari did not want to leave the country for treatment, infact he was sent after consultations, Geo News reported. 

Gilani was chairing the Federal Cabinet meeting at Prime Minister Secretariat and told that the President went to Dubai for medical check up and now he is in better condition.

The Cabinet members also prayed for President Zardari's good health during the meeting.