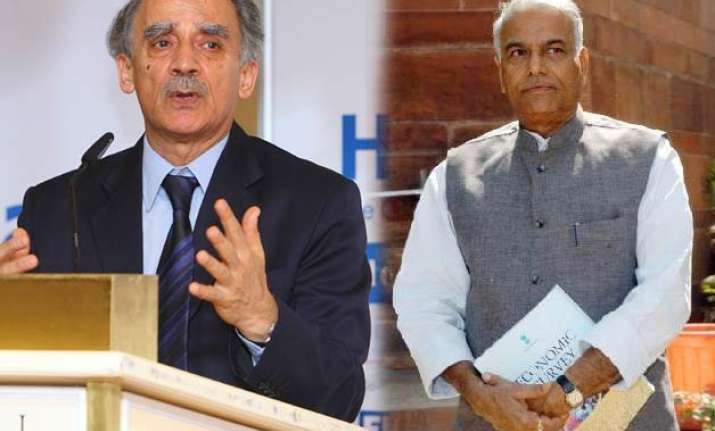 New Delhi: Former finance minister Yashwant Sinha and ex-disinvestment minister Arun Shourie are the two possible contenders the govt is looking for the first presidential post of BRICS bank.
India has the right to nominate the first president. It will be named the New Development Bank and will be headquartered in Shanghai.
According to Times of India, those with proven administrative experience along with understanding of the international financial system and functioning of multilateral agencies are only being considered.
Shourie, a former economist with World Bank, fits the bill. Sinha, who quit IAS, to serve as finance minister, is seen as a suitable candidate too. In the Atal Bihari Vajpayee government he had also served as foreign minister but sources were not sure of the implications of the fact that his son Jayant Sinha is minister of state for finance in the Narendra Modi administration.
Sources said a political candidate with administrative skills is better equipped to deal with the crucial appointment instead of a bureaucrat as the first president will play a crucial role in shaping the future of the bank.
A final call is to be taken by Prime Minister Narendra Modi, which is expected soon.
Finance ministers from the BRICS nations are expected to meet in April on the sidelines of the Fund-Bank meeting, while the leaders are due to meet in Russia in July.
The proposed bank with a $50 billion capital structure is seen to be an alternative to other multi-lateral agencies with the focus on the development agenda of BRICS countries. In fact, India is looking to tap it to meet its large infrastructure financing requirement and has been an active supporter of the new entity.
On February 25, the government formally ratified India's membership of New Development Bank along with the proposed $100 billion Contingency Reserve Arrangement that can be tapped in case of a crisis.
"The New Development Bank will mobilize resources for infrastructure and sustainable development projects in BRICS and other emerging economies and developing countries, to supplement existing efforts of multilateral and regional financial institutions for global growth and development," the government had said in a statement.