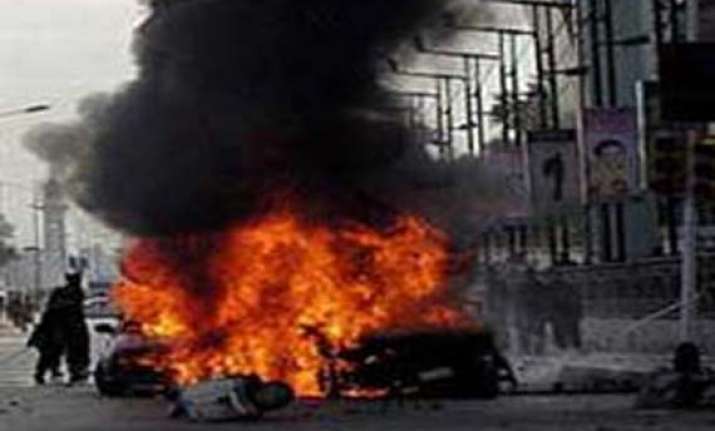 Islamabad, Feb 18: Two suicide attackers disguised as security personnel blew themselves up after storming a government complex in the restive Peshawar city of northwest Pakistan today, killing five people and injuring eight others.
Both attackers blew themselves up after exchanging fire with security forces in Khyber House, the office of the political administrator of Khyber tribal region.
The attackers were wearing uniforms of the Levies militia, witnesses told the media. A meeting of leaders of political parties was underway at Khyber House at the time of the attack.
Iqbal Khan, a leader of the Pakistan Tehrik-e-Insaf, told the media that one suicide attacker blew himself up outside the hall where the meeting was being held.
One attacker shot dead a guard at the gate and entered the complex. He exchanged fire with security forces for almost 20 minutes and blew himself up after he was injured. Another detonated his explosives near the office of Political Agent Mutahir Zeb Khan, who escaped unhurt.
Four security personnel and a civilian were killed in the attack, officials said. Eight injured persons, including Assistant Political Agent Mumtaz Khalid Kundi and four Levies personnel, were taken to nearby hospitals.
Levies militia is the tribal policemen who protect the Khyber House complex.
Officials said Kundi and two Levies personnel were in a serious condition. Khyber House is located within the high-security cantonment in Peshawar. Army soldiers and policemen surrounded the complex shortly after the attack began.
All gates were shut and nearby roads were blocked. Footage on television showed smoke rising into the sky over the complex after an explosion.
Another explosion went off as some civilians were being let out of the complex. After some time, security forces allowed all the people inside the complex to leave.
The troops conducted a search of offices and residential buildings inside the complex as policemen and army commandos took up positions in nearby buildings.
Witnesses said almost 100 people were present at the meeting of political parties convened by the Assistant Political Agent of Khyber Agency to discuss a code of conduct for upcoming polls.
Militants have stepped up attacks across Pakistan just months ahead of general election. On Saturday, 85 people, most of them Shias, were killed in the southwestern city of Quetta in an attack blamed on Sunni militants.
Some reports suggested the militants carried out today's attack to free prisoners being held in a jail within the complex.
No group claimed responsibility for the attack though such incidents are usually blamed on the banned Tehrik-e-Taliban Pakistan.
Peshawar and other parts of Khyber-Pakhtunkhwa province have witnessed a sudden surge in violence by the Taliban.
Provincial Chief Minister Ameer Haider Khan Hoti narrowly escaped an attempt on his life by a Taliban suicide bomber last week.
The Taliban recently offered peace talks to the federal government but refused to disarm. They have said they will continue their attacks till a peace deal is finalised.