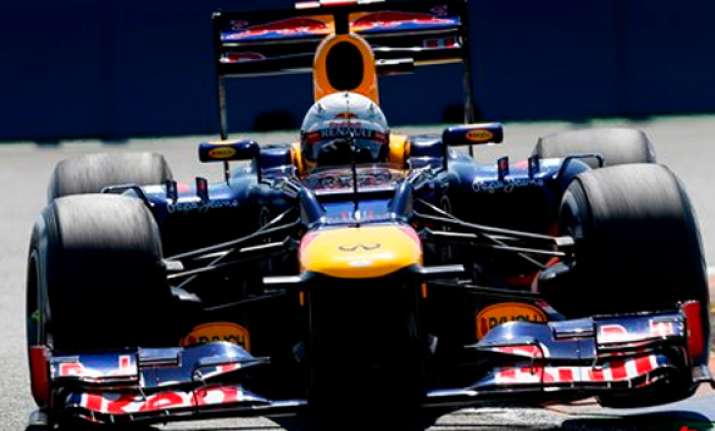 Spain, Jun23:  Red Bull driver Sebastian Vettel will attempt to win the European Grand Prix from pole position for the third year in a row after setting the fastest time in qualifying on Saturday.
The two-time defending Formula One champion set a lap of 1 minute, 38.086 seconds on Valencia's 5.4-kilometer (3.3-mile) street circuit.
"I have had a very good weekend, every day I have felt comfortable in the car," the German said. "We tried to give it our best shot at the end. I had a good feeling on the last lap and managed to pull everything together."
It was the 24-year-old Vettel's 33rd career pole, drawing level with Jim Clark and Alain Prost for the third most in history.
F1 leader Lewis Hamilton, who has finished runner-up in three of the past four races in Valencia, is also on the front row. Without any major upgrades to his McLaren, the Briton said he had expected to be further down the grid.
"I went into qualifying thinking: if I can get fifth I can fight from there," said Hamilton. "To see us on the front row is still a real shock for me, so I will definitely take it."
Pastor Maldonado of Williams will start third alongside Romain Grosjean, the runner-up at the Montreal GP two weeks ago who continues to impress. He qualified in front of Lotus teammate Kimi Raikkonen in fifth.
For Hamilton, both Lotus cars are a real threat.
"The Lotuses look massively competitive, they will be the ones to look out for tomorrow," he said.
Ferrari pair Fernando Alonso and Felipe Massa and Michael Schumacher of Mercedes failed to reach the third qualifying session. Schumacher, a seven-time F1 champion, will start between the pair in 12th place.
Vettel's teammate, Mark Webber, was eliminated after the first period because of mechanical trouble. He is 19th on the grid.
Hamilton leads the standings by two points from Alonso and three from Vettel heading into the race.
Vettel has won in Valencia the past two years after starting from the front of the grid en route to winning consecutive world titles.
If he makes it three from three, Vettel will break the unprecedented run this season in which seven different drivers have won the first seven races. His sole win this season was at Bahrain, also from pole.
The circuit that winds its way through the American's Cup harbor with a series-high 25 turns and in a city known for high temperatures is notoriously hard on tires and for overtaking.
Even so, Vettel doesn't believe victory is guaranteed by starting from the front of the grid despite the pole sitter winning three of the past four races in Valencia.
"We have seen too much this year to sit here and predict what is going to happen," Vettel said. "It will be tough, hotter than today. There will be a lot of cars to look out for."
After being knocked out in the second qualifying period at the last second by a great drive from Grosjean, Alonso said he doesn't have much chance of winning in front of his native Spanish fans.
"You can sell the race however you want, but we will start 11th and try to take as many points as possible," the former two-time champion said.
Schumacher took the blame for his poor showing.
"I'm not particularly happy about not making it through the Q2, but that was clearly down to me. I didn't get my lap together," he said.
Hamilton, however, won't rule out the two former champions.
"Look at the last race and you see that some people came back from 15th," Hamilton said. "We have to do our job and stay ahead of them."
Webber had a bad day. After being limited to just four laps in the morning practice session due to brake problems, the Australian had trouble with his DRS, a flap on the rear wing that can help boost speed.
"DRS doesn't work so the driver doesn't have much of a chance," Webber told Catalan television TV3.
Marussia driver Timo Glock did not participate in qualifying because of stomach flu. He finished the third practice with the slowest lap.