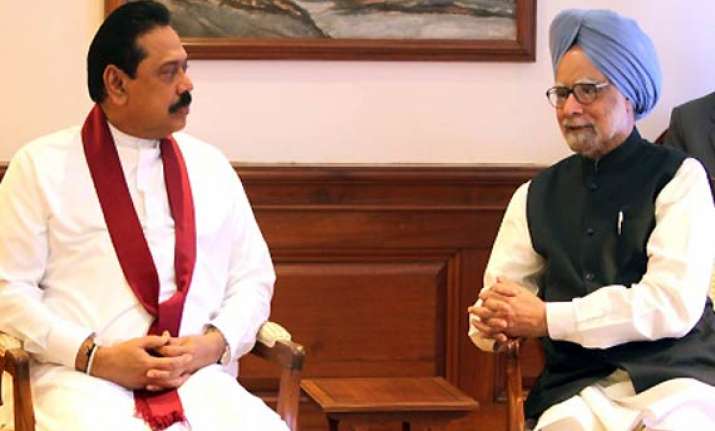 On Board Air India One, Nov 12: Prime Minister Manmohan Singh today said Sri Lankan President Mahinda Rajapakse has agreed that use of force against Indian fishermen who stray into its waters was "totally unacceptable" and that the problem must be dealt in a humane manner. 

Singh said both India and Sri Lanka agreed that the Joint Working Group on fishermen should accelerate its work and discuss difficulties faced by Indian fishermen.  T

he issue of Indian fishermen being allegedly harrased by Sri Lankan Navy was taken up by Singh when he had met Rajapakse in Addu islands in Maldives on Thursday on the sidelines of the SAARC Summit.

"We reviewed with President Rajapakse the problems of Indian fishermen who stray into Sri Lankan waters and are then arrested by SriLankan authorities.

"We explained this to President Rajapakse and he agreed that the use of force to deal with Indian fishermen is totally unacceptable, that it is a human problem and it must be dealt in a humane manner," he told journalists accompanying him on his way back home from Maldives.

Singh said both sides explored various options like growing involvement of fishermen of the two countries in discussing their mutual problems.

"Also, there is a bilateral working group to discuss these issues. We agreed that the working group should accelerate its work," he said.

Singh said he had expressed concern over the resettlement of internally displaced Tamil refugees and the treatment of fishermen.

"President Rajapakse gave me assurances with no conditions that Sri Lanka will and has been moving forward," he said.

On Sri Lanka's efforts to resolve the Tamil question, he said there is now a structured dialogue between Sri Lankan government and TNA and also there is a Parliamentary Select Committee which has been appointed to go into this question of what can be done to find a permanent political and acceptable solution.