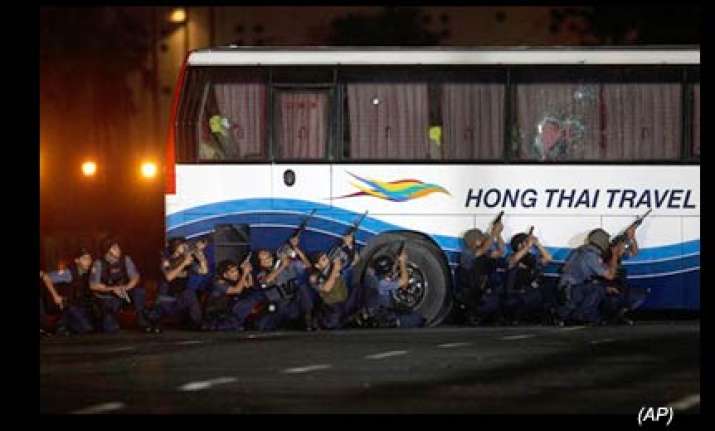 Manila : A 12-hour hostage stand-off on a hijacked Philippine bus ended in bloodshed on Monday,  with officials saying at least seven Chinese tourists were dead along with the disgruntled ex-policeman who seized their vehicle in a bid to get his job back.
At least six captives survived, four of whom were seen crawling out the back door of the bus after Philippine police stormed it today evening when the hostage-taker started shooting at the 15 Chinese tourists inside, said police Senior Superintendent Nelson Yabut..
He said the hostage-taker was killed with a sniper shot to the head after he wounded a police sharpshooter.
Police and ambulances were lined up next to the vehicle in the pouring rain after the standoff ended. Local hospitals reported seven bodies of hostages were brought in.
 One other hostage was hospitalized in critical condition, and five others were unharmed.
Officials have yet to disclose the fate of the two other hostages.
 The crisis began when the dismissed policeman, Rolando Mendoza, 55, armed with a M16 rifle seized the busload of Hong Kong tourists to demand his reinstatement in the force.
 According to newspaper reports from 2008, he was among five officers who had been charged with robbery, extortion and grave threats after a Manila hotel chef filed a complaint alleging the policemen falsely accused him of using drugs to extort money.
The gunman released nine hostages during the afternoon - leaving 15 inside - and demanded his job back to free the rest. Despite hopes that negotiations might bring the stand-off to a peaceful conclusion, tensions escalated as night closed in.
Police said they stormed the bus after they saw Mendoza open fire on hostages.
Moments before the commandos moved in, the Filipino driver fled.  Meanwhile, Hong Kong issued its top-level black travel alert for the Philippines today after at least five Hong Kong tourists were killed in a bus hijack in Manila by an armed ex-policeman.
 "A serious kidnap incident happened in the Philippines. Hong Kong residents should avoid all travel to the country," a government spokesman said in a statement.
 "Those who are already there should attend to their personal safety and exercise caution."
The Hong Kong government also said it would charter two flights to Manila for families of the tourists who were held hostage by an armed ex-policeman in their tourist bus.
HOSTAGE DRAMA—TIMELINE
0900 (0630 IST)-      Hostage taker enters bus carrying international tourist
0920 (0650 IST)-      Area cordoned off
1000 (0730 IST)-      Negotiations begin with the hostage taker
1100 (0830 IST)-      Six hostage freed
1300 (1030 IST)-      Hostage taker issued warning to police
At past 1.30 p.m (1100 IST)., Mendoza has sought for an interview with a broadcast journalist to help him negotiate with authorities for his demand to be reinstated to work as a law enforcer.
1500 (1230 IST)-      Deadline issued by hostage taker to fulfill his demands. Mendoza posted new messages near at the door of the bus: "Big deal will start after 3:00 p.m. today." and "Three p.m. today deadlock."
1530 (1300 IST)-      Three more hostages freed
1650 (1420 IST)-      Gunshot heard from inside the bus
1700 (1430 IST)-      SWAT Team cordon off bus.
1800 (1530 IST)       A single gunshot was heard coming from the bus.
1820 (1550 IST)       The loud bang was heard at about 6:20 p.m.
1909 (1639 IST)       Police hostage-taker threatens to kill hostages
1912 (1642 IST)       Hostage-taking cop's brother walks out of negotiations
1935 (1705 IST)         Gunshots heard at bus hostage scene
1940 (1710 IST)       Gunman tells live radio he shot two Hong Kong hostages
2002 (1732 IST)       Dismissed cop kills most of Chinese hostages—tourist bus driver
2003 (1733 IST)       Policeman's demand for reinstatement nixed
2019 (1749 IST)         Driver escapes, claims Chinese hostages killed
2104 (1834 IST  )  Hostage-taker killed as drama ends
2107 (1837 IST )  At least 4 more emerge alive from seized bus
Manila, Philippines – (UPDATE 3) It's over. The dismissed policeman who held over 20 foreign tourists hostage for close to 12 hours was killed by sniper fire, according to a television report. Bursts of gunfire were heard from inside the tourist bus as lawmen have gone to the backdoor to force it open in the hope of seizing Mendoza and rescuing his hostages. A police car moved closer while members of the raiding team continued to break into the back of the vehicle, video showed. Ambulances have surrounded the bus. Police initially broke the windows and tried to enter the front door of the stalled bus but were stopped by gunshots coming from inside.
2115 (1845 IST) Police confirm that eight hostages were killed in the standoff.