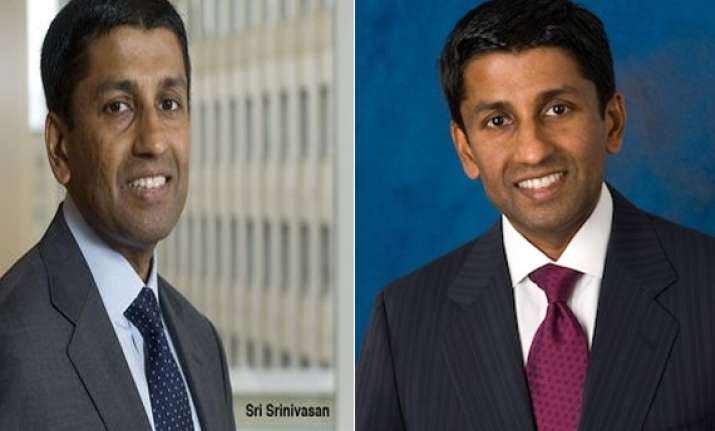 Washington, June 13 : US President Barack Obama on Monday nominated India-born  Srikanth Srinivasan to the Federal Court of Appeals, the highest ever judicial appointment of an Indian-American in the U.S.
The nomination  will have to be confirmed by the US Senate, Times of India reported.
There are 13 Court of Appeals across the U.S. with 179 judges, and the Washington DC Appeals Court to which Srinivasan has been nominated is considered particularly influential, with Obama himself calling it "the nation's second highest court." 
The US Supreme Court hears less than 100 of the more than 10,000 cases filed with it annually, Courts of Appeals serve as the final arbiter on most federal cases. If confirmed by the Senate, the judgeship is a lifetime tenure.
The nominations of Srinivasan and  New York Counsel Caitlin Halligan have become controversial too.
Some Obama supporters are said to have opposed his name because of his work in the U.S. Solicitor General's office during the Bush administration, and the Senate blocked Halligan's nomination last year.
But President Obama, who himself has a legal background, pushed ahead with the nomination, firmly backing the two appointments.
"Caitlin Halligan and Sri Srinivasan are dedicated public servants who will bring their tremendous experience, intellect, and integrity to the U.S. Court of Appeals for the District of Columbia Circuit," Obama said in a statement.
"This important court is often called the Nation's second-highest court, and it stands more than a quarter vacant. Mr. Srinivasan will be a trailblazer and, like Ms. Halligan, will serve the court with distinction and excellence."
The appointment electrified the Indian-American community which has high visibility in the US.
"We are tugging on the arc of history and bending it towards justice...gaining political popularity, strength and sophistication," exulted Toby Chaudhuri, a Democratic strategist who has worked with the Clinton, Gore, and Obama campaigns.
"This president has appointed a record-number who have shattered barriers across the country."
Other judges of Indian-origin serving currently include Judge Amul Thapar at the US district court of the Eastern District of Kentucky (Appointed Dec. 2007) and Jay Gandhi at central district of California (Appointed April 2010).
Sri Srinivasan, as he is popularly known, was born in Chandigarh and grew up in Lawrence, Kansas, before receiving a BA, and later a JD and MBA from Stanford University.
He worked as a clerk with Justice Sandra Day O'Connor and litigated with distinction before the US Supreme Court and the US courts of Appeals, both on behalf of the United States and in private practice, before President Obama appointed him U.S Principal Deputy Solicitor General (to replace another Indian-American Neal Katyal), a position he has held since August 2011.
Srinivasan has also taught at Harvard Law School. His sister, Srinija Srinivasan, is one of Yahoo originals, employee number 5 of the company before she left the Silicon Valley in 2010 after 15 years there.
Obama also appointed her as a member of the White House Commission on Presidential Scholars in 2010.