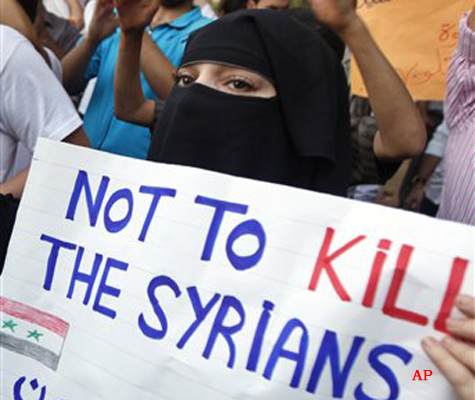 Nicosia, Oct 16 : Nine people were killed today as Syrian security forces pressed a crackdown on political dissent in three separate hubs of protest against President Bashar al-Assad's regime, activists said.  The Syrian Observatory for Human Rights said in emailed statements received by AFP in Nicosia that four civilians died in the central city of Homs when security forces opened fire on a protest outside the home of a detained activist, Mansur al-Arassi.

Two other people were killed outside a mosque in the Khaldiyeh sector of the city by attackers who opened fire from a vehicle, the Britain-based Observatory said. It said 39 people were wounded in the two incidents.  In the Damascus region, one person was killed in the town of Zabadani, where security forces earlier arrested 25 people, including three young women.

The Observatory said the death occurred when security forces fired on people after they left a mosque and began protesting in the streets calling for the release of detainees.

In Idlib province of northwest Syria, two people were killed in Khan Sheikhun near the border with Turkey when security forces fired live rounds to break up a protest, the Observatory said.

Earlier in the day, security forces opened fire on a funeral procession for an activist in the oil-rich east.  "Syrian security forces in Deir Ezzor fired live bullets at a funeral procession for Ziad al-Obeidi," the rights watchdog said.

"Some 7,000 people took part in the funeral which turned into a demonstration calling for the fall of the regime," it said. Obeidi, 42, was killed by security forces who were hunting for him in Deir Ezzor province. He had gone into hiding in August during military operations in the area.