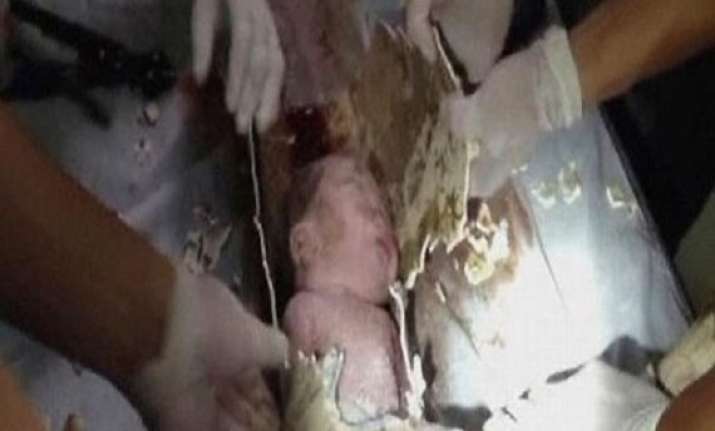 Beijing, May 28: A shocking news emerged from China where a newborn boy was thrown in sewer pipe below a squat toilet and was rescued by firefighters and medics.
The infant was discovered by residents in Jinhua, in the eastern province of Zhejiang, when they heard cries coming out of a fourth floor squat toilet in a local apartment building.
When the firefighters arrived on the scene they discovered a two-day old baby lodged in the piping below the toilet.   
After attempts to pull the baby out of the toilet failed, the rescuers resorted to sawing off a whole section of piping containing the baby and brought it to the neighboring hospital.
Fortunately the baby survived but the person who abandoned him is still suspected of attempted murder.
Police were looking for the parents of the baby boy.
The incident has conjured up intense emotions on Chinese social media especially after the news this weekend of separate newborn discovered in a dumpster in Hebei province.  
That newborn did not survive.
The Chinese-language newsweekly MinSheng reported last year that 100,000 babies are estimated to have been abandoned each year in China.  
That's over 250 babies abandoned ever day across this country.