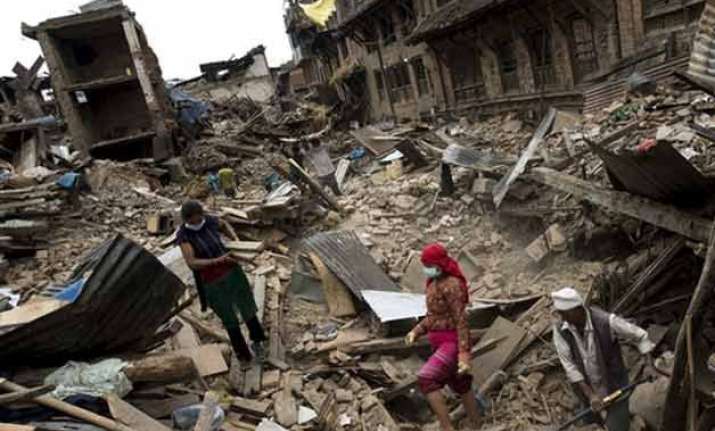 As Nepal is trying to cope with the recent massive earthquake that left nothing to be destroyed, another earthquake measuring 7.4 magnitudes shocked Nepal once again- within a span of a month's time. The epicentre was between Dolakha and Sindhupalchowk- 83 kilometres east of Kathmandu.
Last months tremors, repeated jolts, flood, landslides and avalanches have already done enough damage that will take years for this country to get back to normalcy. While, they are trying to cope with the destruction, the recent tremor definitely came as a bolt from the blue that no one could wish for.  
The earthquake of April 25th, measuring 7.9 magnitudes, took lives of over 8,000 people and it seems that earthquake has become a never-ending 'nightmare' for the people of this country. Apart from lives, Nepal also lost its rich cultural heritage sites that turned into rubbles within a minute. Places known for attracting tourist from all over the world, including Dharahara, Bhakatapur durbar square, Patan Durbar square, Kathmandu square has turned into dust. Eight of their 'UNESCO World Heritage cultural sites' has lost its significant parts as the country now stands on human and monumental tragedy.
These monuments that used to provide peace were guarded in a highly manner by respective communities of that areas. They were not just museums or some sort of ornate structures standing still to give pleasure but they were Nepal's identity standing and preserving history in Nepal's lap.    
As a matter of fact, many of these historical monuments were earlier damaged in the 8.1 magnitude earthquake of 1934, which were rebuilt after sometime.
It was still recuperating from that lost, when this second major earthquake in last fortnight hit back the Himalayan country.  
The tremors of this recent earthquake also jolted Delhi and a large part of northern India.
We pray Mother Nature to be calm and support Nepal at such time when its children are living in fear.