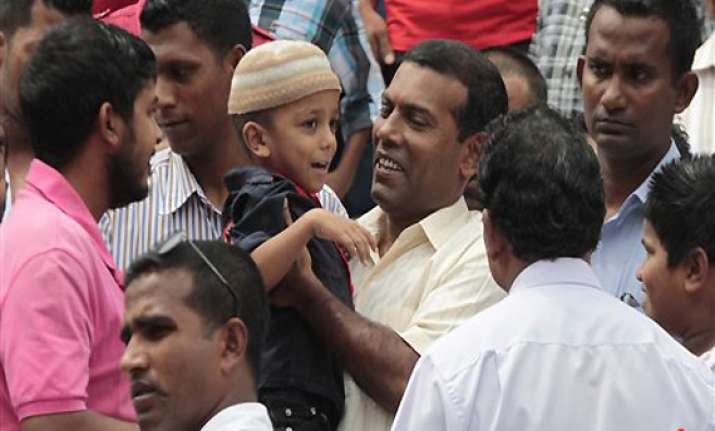 Male, Feb 11: Maldives' ousted President Mohammed Nasheed on Saturday said he was disappointed with India over its response to the political turmoil without having properly understood the ground situation in his country.

The 44-year-old Mr. Nasheed, who was forced to step down, making way for his deputy Mohammed Waheed Hassan, made known his unhappiness over New Delhi reaching out to the new leadership.

Prime Minister Manmohan Singh had written to the new President on Wednesday, expressing "continued support" to the efforts to ensure stability and peace in that country.

"We are with the idea, with the belief that India would have a very proper understanding of the situation in Maldives, that they will have necessary information and intelligence to make a judgement," Mr. Nasheed told PTI in Male.

He said it was disappointing to find that this was not so.

"I think people will have to be focused on what is happening," he said, adding that he had conveyed his feelings to India's special envoy M. Ganapathi.

Mr. Nasheed said he has expressed his opinion to Mr. Ganapathi, Secretary (West) in the External Affairs Ministry, during his meeting with him. "The envoy will take what I said to the Prime Minister," he said.

Later, speaking to a group of Indian journalists, Mr. Nasheed insisted that conspiracy to overthrow him was hatched well in advance, and that New Delhi should seek an independent probe into the crisis.

"Well, a fare amount of our party workers... grassroots level were wondering why there is no understanding between Indian authorities and us. It is an issue of concern," Mr. Nasheed said when told that some of his party members have expressed disappointment over India's response to the situation.

"The planning happened much earlier, the execution of it was on that day," he said, speaking about the events of the day he resigned.

He said he went to the headquarters of Maldives National Defence Force (MNDF) where about 150 police officials were present along with protesters.

"I wanted the military to arrest them but they did not," he said relating the developments leading up to his resignation.

He said the personnel inside told him that he has to resign or there will be violence.

"I thought the best way to get out of MNDF is that I will tell them that I will resign," he said.