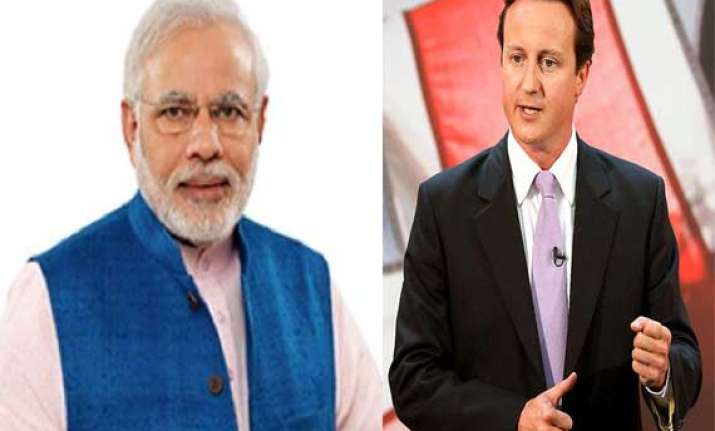 London: British Prime Minister David Cameron on Thursday said that he congratulated Narendra Modi for winning more votes than any other politician in the universe during his phone call after the "extraordinary" Indian election.
"I won't forget my conversation with Prime Minister Modi congratulating him on his victory. I picked up the phone and said, 'It's great to be talking to someone who just got more votes than any other politician anywhere in the universe'," he said.
Cameron disclosed his private conversation with India's newly-elected leader during an address to Britain's Indian community at an annual event hosted by the Conservative Friends of India here.
"Britain and India now both have bold reforming governments that believe in free enterprise and progress," he said.
The Conservative party leader used the forum to canvass for Indian-origin votes in the UK's upcoming general election due in May 2015.
"Elections are won in the heart rather than the head. And actually what is at stake at the next elections are not just the policies and plans but the values that lie behind them," he said.
"That is where I believe British Indians have so much to contribute to this fight that we have in front of us. The values that will help Britain succeed are the values that your communities hold dear," he said.
Invoking Mahatma Gandhi, Cameron said: "As Gandhi said, the best way to find yourself is to lose yourself in the service of others."
Cameron said the India-UK ties was "extremely strong" but "I don't actually think we have yet even scratched the surface of how far this relationship can go."
He outlined three key elements that would help build the relationship further - commitment, respect and ambition.
"I know that with India on the rise, Britain should not for one moment take for granted this relationship. As leader of the Conservative party and as Prime Minister, I have given this relationship real commitment.
"The first overseas visit I made as PM was to India. I have visited India now more times than any country apart from Brussels, where I have to go more often than frankly I would like to," he said, making light of his ongoing clashes over greater political control within the European Union.
This is a relationship that should be based on respect.