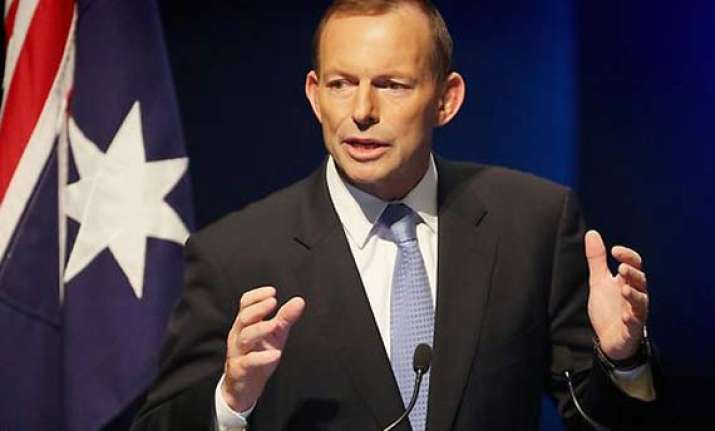 Melbourne: Australian Prime Minister Tony Abbott, on Tuesday, claimed that evidence has been tampered with on an industrial scale at the crash site of a Malaysian passenger plane in pro-Russia separatists-held eastern Ukraine.
"Anyone who has been watching the latest footage would appreciate that there is still a long, long way to go. After the crime comes the cover-up," Abbott said.
"What we have seen is evidence tampering on an industrial scale and obviously that has to stop," he said. The Malaysia Airlines Flight MH17 was on a scheduled flight from Amsterdam to Kuala Lumpur when it was shot down over pro-Russia rebels-held territory of the eastern Ukraine on Thursday.
Abbott said the crash site must be secured and flagged Australian participation in some kind of multinational police force in eastern Ukraine. "Obviously there does need to be security for the site and I would think that the security for the site would best be provided by the countries that have been so wronged here."
Abbott announced a major operation to secure and identify the bodies of the Australian nationals who died in the crash. He said "Operation Bring Them Home" which would be coordinated by former Australian Defence Force chief Retired Air Chief Marshal Angus Houston from Ukraine, would involve consular officials, victim identification and forensic experts and air safety investigators in Ukraine and the Netherlands.
An Australian C-17 military transport aircraft will arrive in the Netherlands later today and will help transport bodies out of Ukraine. Abbott said when the bodies had been removed, experts would begin the painstaking process of identifying the 37 Australian citizens and residents who perished.
The Prime Minister also welcomed the UN Security Council's unanimous decision to back a resolution setting up an independent investigation into the crash.
"There's quite a long way to go between what we've got now and what we would like to see, which is a fully secure and protected site where investigators can go about their task without hindrance from others, without hindrance from armed rebels, without hindrance from anyone who might seek to interfere with the investigation," Abbott said.
Foreign Minister Julie Bishop said that Australia would do everything in its power to ensure that the crash is thoroughly investigated and the perpetrators brought to justice.
She also welcomed the UN resolution, saying it "underlined the need for a full, thorough and independent international investigation into the crash and demanded all military activities in the area cease to allow immediate, safe, secure and unrestricted access to investigating authorities."