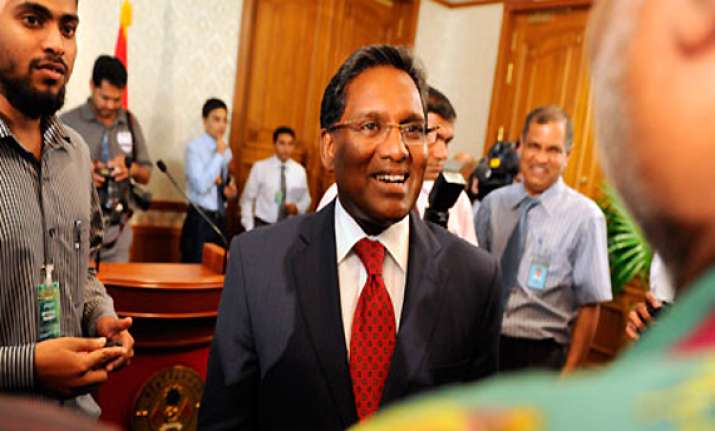 Male, Apr 2: In his first trip abroad since assuming the top post in Maldives, President Mohammed Waheed will travel to India next month, the government here said today.
The announcement came close on the heels of his predecessor Mohammed Nasheed's statement that he will visit India in mid-April to seek support for his efforts to hold early elections and restore a democratically-elected government in Maldives.
Waheed, who assumed office after the February 7 ouster of the country's first democratically-elected President Nasheed, will visit India in May on an official visit at the invitation of Indian government, Minister of State for Foreign Affairs Dhunya Maumoon told a press conference here.
She, however, did not give the exact date for the visit.  The President will hold with the Indian leaders on improving bilateral ties, she said.
Separately, Press Secretary at President's Office Masood Imad told media here that Waheed has not yet started undertaking trips abroad as his nominees for Vice President and Cabinet Ministers are not so far confirmed by Parliament.
Imad also said that the President is expected to travel to Rio de Janeiro, Brazil, to attend the Environment Summit in June.
Dhunya Maumoon said that during the ongoing visit of Maldivian Foreign Minister Abdul Samad Abdulla to India, he will inform the Indian government about how the transfer of the leadership happened on February 7.
She also said that the President's spokesperson Abbas Adil Riza is currently at Uganda, attending the Inter-Parliamentary Union (IPU) meeting to give the information regarding the transfer of leadership of the country.