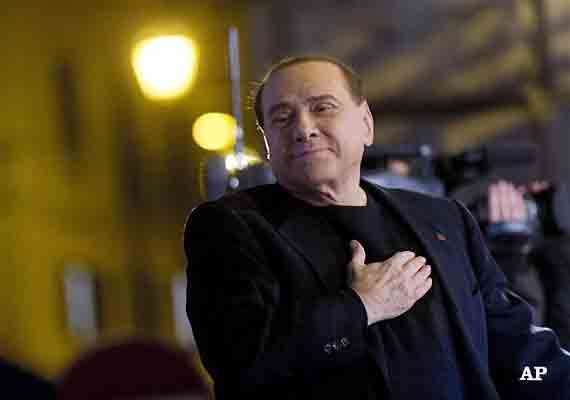 Rome: The Italian Senate on Wednesday expelled three-time ex-Premier Silvio Berlusconi from Parliament over his tax fraud conviction, ending, for now, his two-decade legislative run but not his political career.
Berlusconi has warned that the unprecedented move would embarrass Italy internationally. He maintained his defiance as the Senate voted, declaring on Wednesday a "day of mourning for democracy" before thousands of cheering, flag-waving supporters outside his Roman palazzo.
Even though Berlusconi won't hold a seat in Parliament, he is expected to remain influential in Italian politics. He has relaunched his Forza Italia party and he still commands millions of loyal supporters.
While his lawyers chart possible legal challenges and his allies move into Italy's opposition, Berlusconi's fans massed in front of his Roman palazzo for a rally that analysts said was essentially the start of Italy's next electoral campaign.
"Today they are toasting because they can take an adversary, they say a friend, in front of the executioner's squad," Berlusconi said. "It is the day they have been waiting for for 20 years."
He pledged to continue his role as a political leader, citing other figures not in Parliament, namely the founder of the Five Star Movement, Beppe Grillo, and Matteo Renzi of the Democratic Party, tipped by many as a future premier candidate.
"Also, from outside the Parliament, we can continue to fight for our liberty," he said.
Supporters were treated to a video montage of Berlusconi's greatest political hits from a career that began in 1994 when he first came into power with a political party named for a soccer chant "Go Italy." He said that even if he's no longer a senator, he will continue to be a force to reckon with.