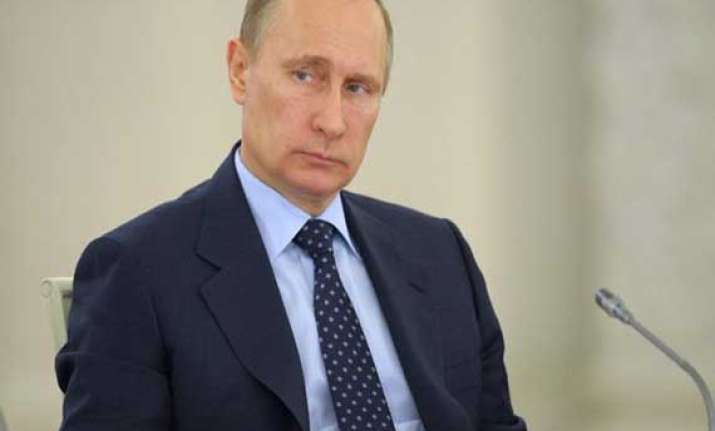 Moscow: Russian President Vladimir Putin Thursday called "anti-terror operation" conducted by Ukrainian troops in the east of the country "a serious crime", warning of "consequences" if Kiev used the army against its own people.
"If the regime in Kiev started using troops against its population, this is a grave crime," Xinhua quoted Putin as saying at a media forum in St. Petersburg.
Using armed forces for "punitive operation" will have consequences for those who made that decision, including on the inter-state level, he warned, adding that in that case Ukraine's authorities deserved to be called "a junta" and "a clique."
Putin accused the Kiev government of exerting excessive force in dealing with federalist elements in the east of the country and of legitimising extremist groups rather than opening up a genuine national dialogue.
"We took part in the meeting in Geneva. We signed a series of agreements there, according to which both sides were to disarm, abandon public buildings, and so on," Putin said. "We shouldn't be going down this road, but rather down the road of dialogue among all people in the country, wherever they happen to live."
On Wednesday, Kiev resumed an "active anti-terror" operation against pro-Russian activities in the embattled eastern regions after pro-Russia activists allegedly kidnapped and tortured several journalists and murdered a pro-government politician.
Kiev suspended its "counter-terror" measures last week following an agreement with Russia, the US and the European Union (EU) in Geneva, which calls on all sides of the conflict to refrain from violence.
The Ukrainian interior ministry said Thursday five "separatist militants" were killed during "counter-terror" actions at three checkpoints set by a pro-Russia militia outside the city of Slavyansk.
The current events in eastern Ukraine just proved that Russia acted correctly by supporting people in Crimea, Putin said. "If it was not for Russia's support, residents of Crimea were unable to express their will in a civilised way."
He dismissed fears that Crimea's development would be undertaken at the expanse of cutting social programmes in other parts of Russia.
"We have a federal surplus of $6.7 billion this year, and the total amount of aid needed by Crimea will not exceed $2.8 billion," Putin said.
He also played down effect of Western sanctions against Russia, calling them "absolutely non-critical" and being of mostly political nature.
On Wednesday, Kiev voiced outrage against Russia's intention to set up border control between Crimea and Ukraine.
The Ukrainian autonomous republic of Crimea and the city of Sevastopol became Russian regions in mid-March following a referendum recognised by Moscow. Kiev rejected the referendum and Crimea's annexation to Russia, saying it was unconstitutional.