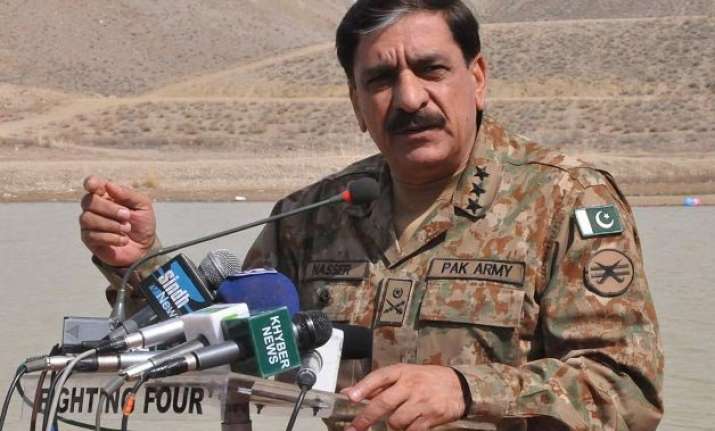 New Delhi: Lt. Gen Nasir Khan Janjua headed the Southern Command of Pakistan army before retiring from military service this month. He also headed the XII corps based in Quetta trying to stem the rebellion in Balochistan.
In 2012, Lt Gen Janjua was president of National Defence University, the Pakistan army's higher education institute and premier think-tank on national security matters. He also worked on 'Azm-e-Nau', a military preparedness exercise to face the challenge from India.
Prior to becoming president of NDU, Lt Gen Janjua served as chief of Southern Command and Vice Chief of General Staff at General Headquarters, Rawalpindi. He also served in Swat valley, quelling the rebellion from Tehrik-e-Taliban Pakistan.
In "A Tribute to Gen Janjua's Leadership" written by Ahmed Khan for pakistankhudahafiz.com, the author writes: "...he was inspirational, engaging, motivating and exquisite. One special thing about his command in NDU is really appreciable, his ability to delegate. ..One more special thing his personality possesses (sic) is a razor sharp memory. Usually, leaders forget about people working near to them (sic), but he possesses a god gifted ability of remembering most of the things about people's work under his command.."
The Janjua clan is normally Rajputs converted to Islam. However, Muslim historians claim Rajputa are descendants of Turkish White Huns who invaded northern India in 4th century AD. They became kings (rajas) and soldiers, and hence were called Rajputs by the local people.
Even the DG of Pakistan's spy agency ISI Lt Gen Zaheerul Islam also belongs to the Janjua clan. According to the Facebook account of Janjua Rajputs, "the great Janjua tribe have (sic) retained their pride of lineage and their Rajput style, and can be ranked as Mian Sahu or first class Rajputs..physically well-looking, with fine hands and feet; much given to military service, especially in the cavalry;...with great pride of race and are always addressed as Raja".