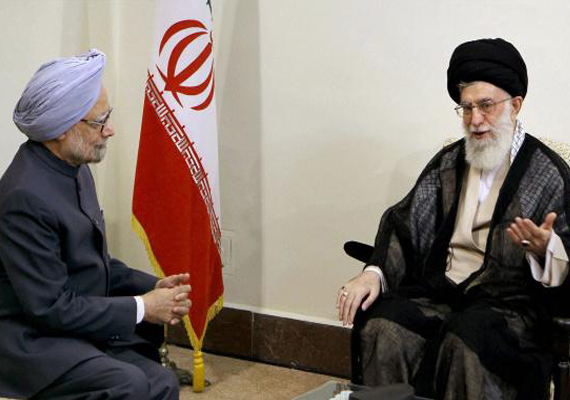 Tehran, Aug 30:  Iran's supreme leader Ayatollah Ali Khamenei on Wednesday  fondly remembered Mahatma Gandhi and Indian premier Jawaharlal Nehru in his first-ever interaction with Prime Minister Manmohan Singh here.  
Official sources privy to the 40-minute meeting between the two said that Khamenei told Singh that he was deeply impressed by Gandhiji's brilliance and illuminating visage.  
The 73-year-old Iranian leader, who holds near-absolute power, also recalled Gandhiji's "heroic struggle" starting from his days in South Africa and leadership of the Indian freedom movement.
Khamenei also spoke of Nehru's beliefs which he said flowed from Gandhiji's struggle, a source said.  The Iranian leader said these beliefs led Nehru to help create the Non-Aligned Movement.
Khamenei also spoke of his own visit to India in 1981 and his meetings with then Prime Minister Indira Gandhi and the then External Affairs Minister Narasimha Rao.  
Prime Minister Singh responded by expressing his appreciation for Iran's supreme leader's views.  The meeting between the two leaders assumes significance since Khamenei rarely meets leaders of non-Islamic countries.