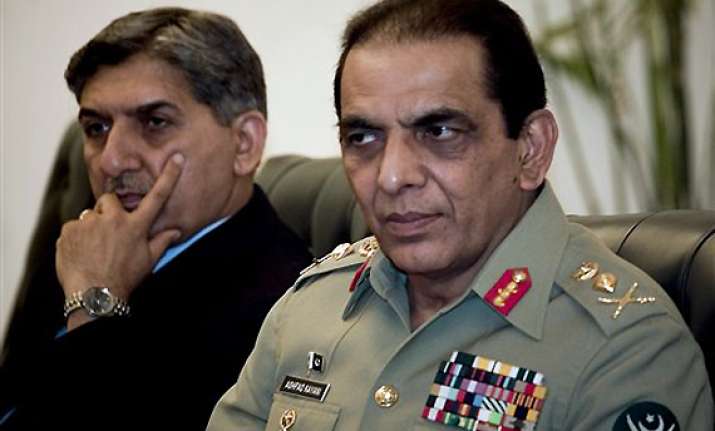 Islamabad, Oct 19: Pakistan Army chief Gen Ashfaq Parvez Kayani has not ruled out the possibility of a unilateral US military strike against militants in North Waziristan tribal region, but warned that Washington will have to think "ten times" before launching such an attack, a media report said today.

"They (US) might do it but they will have to think ten times because Pakistan is not Iraq or Afghanistan," Kayani was quoted by The Express Tribune newspaper as telling members of parliament's defence committee during a briefing at the General Headquarters yesterday.

The rare briefing for members of the standing committees on defence of the two houses of parliament lasted over three hours, media reports said.

Kayani made the remarks when a lawmaker asked him to comment on the possibility of a US strike in Pakistan, like American attacks in Laos and Cambodia before the withdrawal from Vietnam.

The US has been putting up pressure on Pakistan for years to go after Haqqani network militants in North Waziristan, who cross the border to attack US and NATO forces in Afghanistan.  The pressure has become intense since US Navy SEALs killed Osama bin Laden in May in Abbottabad.  However, the Dawn newspaper quoted Kayani as ruling out the possibility of an "immediate unilateral US military offensive in North Waziristan".

The Dawn reported that Kayani did not say what Pakistan's response would be in such an eventuality but he reminded the lawmakers that the country was a nuclear power and must not be compared with Iraq and Afghanistan.

Kayani acknowledged that the US was pressing Pakistan to launch a military operation in North Waziristan and said an ongoing build-up of Afghan and International Security Assistance Force troops along the Pakistan-Afghanistan border is a tactic to "intensify that pressure", The Express Tribune reported.

The powerful army chief contended that the problem lay within Afghanistan, and not in North Waziristan, which the US has described as a safe haven for Taliban and Al Qaeda elements.

"We have made it clear to the US that we will decide the timing of any such action according to our situation and capabilities. We have also told them that the problem lies within Afghanistan. If anyone convinces me that everything will be sorted out if we act in North Waziristan, I will take immediate action," Kayani was quoted as saying by The Express Tribune.

Kayani said Pakistan had provided its position on Afghanistan in writing to the US administration in 2010 and asked the Americans to elaborate their position but they had not done so.

"We have long-term interests in Afghanistan, others might have short…For short-term gains, we cannot lose (sight of) our long-term interests," he said.

Responding to a question on Pakistan's interests in Afghanistan, Kayani sought to dispel the perception that the country was seeking "strategic depth".

One lawmaker told the Dawn that Kayani had rejected US allegations that Pakistan is using the Haqqani network for a proxy war in Afghanistan and said Pakistan was a part of solution, and not the problem.

Kayani said some principles govern relations between countries and "nobody would be allowed to cross the red line".  He rejected a perception that Pakistan wants to control Afghanistan and said this was evident from history that nobody ever succeeded in doing so.

"When the United Kingdom and the Soviet Union failed to do so how can it be expected of Pakistan? We do not have a magic wand to succeed in doing what others failed," he said.  Kayani said Pakistan wants peace and stability in Afghanistan so that it did not face any challenge from its eastern and western borders.

Pakistan will never allow its territory to be used for attacks against any other country, he said.  Kayani further said the US had been told that Pakistan did not need military aid, adding he had received a call from Washington asking if he meant it.

"My reply was we mean what we say," he said.  He said only 20 per cent of the USD 1.5 billion of aid under the Kerry-Lugar Act had so far been received. 

Asked about allegations that the Inter-Services Intelligence had "unsavoury characters", Kayani said intelligence came from links and all international intelligence agencies, including CIA and MI6, have such contacts. He stressed these contacts must be positively used. 

Kayani said Pakistan's weak law on terrorism and counter-insurgency was a problem because there was currently no deterrence.

He said the law of evidence is outdated and not in conformity with the current scenario.

A bill seeking to amend the Anti-Terrorism Act of 1997 has been pending before a parliamentary committee for almost a year, he noted.

Meanwhile, Pakistan has deployed additional army and paramilitary troops along its border with Afghanistan in the wake of a new push by Afghan and NATO forces against the Haqqani network that is based in the restive North Waziristan tribal region.

Regular army and Frontier Corps troops have been sent to areas along the border with Afghanistan to stop militant attacks, chief military spokesman Maj Gen Athar Abbas said.  Pakistan will not allow militants to carry out attacks on its check posts and border villages and kill civilians, he added.

Abbas said the additional forces were sent after NATO and Afghan forces failed to act on Pakistan's call for action against militants responsible for cross-border attacks.  About 100 Pakistani security personnel have died in cross-border attacks by Afghanistan-based militants during the past four months, Abbas told Radio Pakistan. 

The International Security Assistance Force was informed about these attacks and the location of militant hideouts in Afghanistan was pointed out but no action had been taken so far, he said.

Apparently there is no presence of the Afghan army or ISAF forces in the "vast area" from where militants were operating against Pakistan, he said.

The Dir region in Khyber-Pakhtunkhwa province was hit hardest by the cross-border attacks and terrorists who fled the Swat valley to escape a Pakistani military offensive were involved in these attacks, Abbas said.