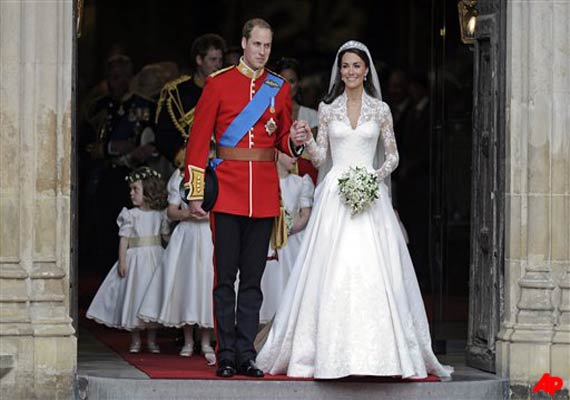 London, Apr 29: It was the question of the royal wedding, and Kate Middleton didn't disappoint.

The lacy white Sarah Burton dress Middleton wore to Westminster Abbey on Friday provoked swoons of admiration as soon as she alighted from the Rolls-Royce transporting her to her rendez-vous with destiny.

Jennie Bond, a leading British monarchy expert and royal wedding consultant for The Associated Press, called the confection by the creative director of the Alexander McQueen fashion house, a "fairy tale."

"It's a dream," she said. "It is a beautiful laced soft look which is extremely elegant. She looked stunning."




Months of feverish speculation were rewarded with a piece of royal magic: a stunning but elegant gown with low neckline, dramatic veil, and 8-foot- (nearly 3-meter-) long train.

It was discreet in comparison to Princess Diana's monumental 1981 wedding dress, with its bouffant sleeves and seemingly never-ending train. Kate's gown was slim-fitting and intricately worked, with McQueen's trademark nipped waist.

As her "something borrowed," Middleton wore the Cartier "Halo" tiara, supplied by Queen Elizabeth II. The tiara was first purchased by the Duke of York, later King George VI, for his duchess, who later became the Queen Mother Elizabeth. It was given to the current queen by her mother on the queen's 18th birthday.

The "something new" in Middleton's ensemble were diamond earrings given to her by her parents. The earrings by Robinson Pelham were a set of stylized oak leaves with a pear shaped diamond drop and diamond acorn suspended in the center.




But it was the dress that stole the show.

"Oh it's gorgeous!" gushed Yvonne Ryland, of Yorkshire, England, who now lives in Spain. "It is absolutely beautiful. It is so slimming and fits her perfectly. "

In a statement, the Palace gave an exhaustive description of the dress, from the exact number of tulle-swathed buttons running down the back (58) to the technique used to craft the lace -- Carrickmacross, which originated in 1820s Ireland.

Workers at the Royal School of Needlework who created the lace, with its intricate flower, thistle and shamrock motifs "washed their hands every thirty minutes to keep the lace and threads pristine, and the needles were renewed every three hours, to keep them sharp and clean," the statement said.

"The dress epitomizes timeless British craftsmanship by drawing together talented and skilled workmen from across the United Kingdom," the statement said.




Burton called working with Middleton, now the Duchess of Cambridge, "the experience of a lifetime."

"It was such an incredible honor to be asked, and I am so proud of what we and the Alexander McQueen team have created," a statement quotes Burton as saying. "Catherine looked absolutely stunning today"

The design -- which hit the sweet spot between elegance and nobility, modesty and va-va-voom glamour -- had fashion insiders ecstatic.

"She looked glamorous and polished but still like herself which is important for any bride, even a princess bride," said Millie Martini Bratten, editor in chief of Brides magazine.

Burton had earlier denied receiving the coveted commission, but that denial now appears to have been part of an elaborate strategy to maintain secrecy.

In recent weeks reports had circulated that parts of the McQueen office had been cordoned off so no one could see what was being designed behind the screens, adding credence to the belief that Burton had been chosen.

Now that the gown had been unveiled to near universal acclaim, Burton's design was almost certain to be copied around the world.

"There's absolutely no doubt that Kate's dress will be a trend setter," said Robb Young, author of "Power Dressing: First Ladies, Women Politicians and Fashion. "It's sleek, understated, flattering, thoroughly modern and romantic which, ultimately, I think is probably what most brides today are looking for."

The commission will likely catapult the Alexander McQueen brand into the stratosphere of household fashion names like Chanel and Dior -- and seal the renaissance of a label whose future looked murky just over a year ago.

The February, 2010 suicide of Alexander McQueen shook the house to its foundations, leaving many industry insiders wondering how a house built on its founder's explosive brilliance could possibly soldier on without him. Rumors circulated that its parent company, the Gucci Group, was contemplating shuttering the brand.

But doubts were put to bed after Burton, McQueen's longtime right-hand-woman, showed her debut collection as creative director last October, a tour de force of structured, nip-waisted frocks in feathers, braided leather and what appeared to be delicate butterfly wings.

Since the royal engagement was announced in November, the fashion world has been crossing its fingers that Burton would win the commission. McQueen was both the most high-profile and high-fashion of the British labels tapped as contenders, and industry insiders said it would be a fitting tribute to the late designer's legacy.

Burton has many supporters high up in the fashion world, including Anna Wintour, the influential editor of Vogue's American edition, who praised Burton's "brilliance" during a recent visit to London.

Burton also got a private endorsement from Alexandra Shulman, the editor of the British Vogue, who recommended Burton to palace officials when they queried her about who would be the best choice to design Middleton's dress.

At Burton's last runway show, in Paris in March, a collective shiver went through the audience when the first model stepped onto the runway dressed in head-to-toe white. The ambiance was palpably electric as the display closed with two tulle-covered gowns that looked quite a bit like wedding dresses.

Burton has coped well with the sensitive task of taking over from one of the world's most celebrated designers in the aftermath of his shocking death. McQueen had been suffering from depression and took his life days after the death of his mother.

Unlike McQueen, whose edgy personality was well known, Burton has received little publicity outside the fashion press and she is not a player on the London nightlife scene.

She edged out a number of other high profile British designers with experience in wedding gowns, including Vivienne Westwood -- who has criticized Middleton for being too timid -- Bruce Oldfield, Alice Temperley and Philippa Lepley.

Designers from outside Britain apparently did not receive serious consideration in the wedding gown sweepstakes.

Burton's work caught Middleton's eye when she designed an off-the-shoulder wedding dress for Sara Buys, a fashion journalist who married Tom Parker Bowles, the son of Prince Charles' wife, Camilla, Duchess of Cornwall, in 2005.

The designer, who was raised in Manchester in northern England, has dressed Cate Blanchett, Lady Gaga and Gwyneth Paltrow.

She joined McQueen in 1996 as an intern, and in September presented her first womenswear collection in Paris -- clothes that were not as dark or dramatic as McQueen's, but still bold enough to make a very fashion-forward choice for a royal bride. AP