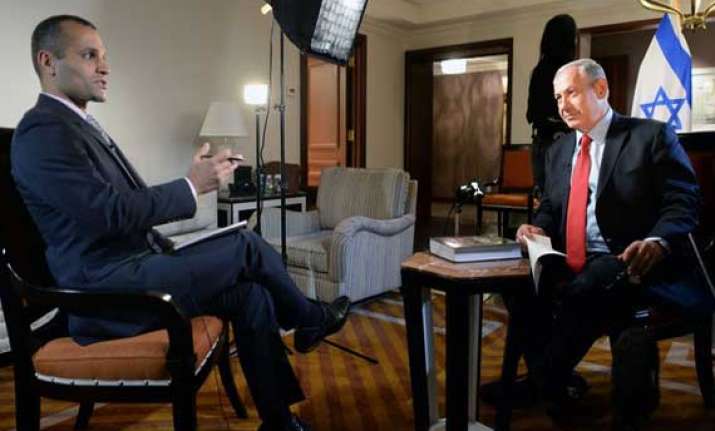 Tehran : Iran's Foreign Minister Mohammad Javad Zarif said Thursday that Tehran will not allow Israel to "interfere" in the process of negotiations over the country's nuclear programme, media reports said.
The minister alluded to the anti-Iran statements by Israeli Prime Minister Benjamin Netanyahu during his Tuesday speech at the 68th Session of the UN General Assembly, Xinhua reported citing a Press TV report.
"We definitely will not allow Netanyahu to decide on how we should pursue the nuclear talks. We will decide by ourselves," Zarif said.
Netanyahu had dismissed Iran's attempts to reduce tensions with the West, particularly with the US, calling the Iranian president "insincere" in his remarks to promote relations with the West. He vowed to prevent Iran from acquiring nuclear weapons even if it stands alone.
"Netanyahu and other warmongers seek to sow discord in a bid to sabotage the possibility of an agreement in nuclear talks, but Tehran will not allow that to happen," Zarif said.
He added that Iran will continue to insist on its inalienable right to nuclear technology for peaceful purposes.
Netanyahu's "Iranophobia" campaign aims to spoil the positive atmosphere created regarding Tehran's nuclear energy program following the recent visit by Iranian President Hassan Rouhani to New York, he was quoted as saying.
During a meeting with US President Barack Obama Monday, Netanyahu urged him to keep economic sanctions on Iran in place in a bid to ease Israeli concerns about Washington's diplomatic engagement with Tehran over its disputed nuclear programme.
Israeli officials are worried about the recent diplomatic advancements between Iran and the US, saying that Iran is using a "smiles campaign" in order to buy time and carry on with its nuclear program.
However, Obama reiterated that he will take no options off the table, including military options, in terms of making sure there's no nuclear weapons in Iran.
US Secretary of State John Kerry Thursday assured Israel that Iran's new diplomacy over its nuclear issue will be judged by its deeds not by its words.
The representatives of Iran and the P5Ư -- including Britain, China, France, Russia, the US and Germany -- will meet in Geneva Oct 15-16 for a fresh round of nuclear talks.
Rouhani said Wednesday that Iran has prepared an "accurate proposal" for upcoming nuclear talks with the world powers in Geneva. "We hope a full agreement to be reached over this proposal, or the outlines could be agreed upon," he said.