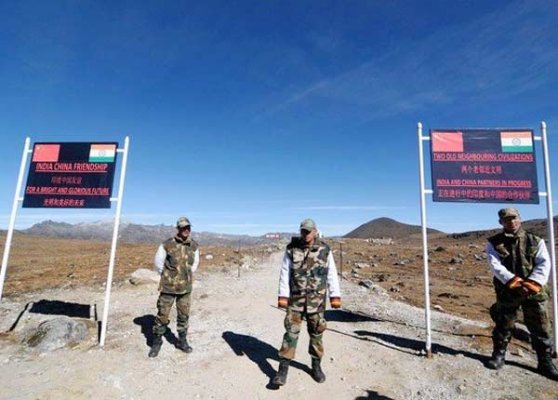 Beijing: India should do away with "misconceptions" like China will make "concessions" to settle the border dispute and invest its huge foreign reserves in the country, an article in state-run daily here has said.
"Although Chinese President Xi Jinping's visit to India in September was a big success, the effect of border confrontation during the visit on leaders' conversations is evident," the article in Global Times said.
"Furthermore, the Modi government needs to eliminate two misconceptions when developing relations with China. First, India thinks China should make concessions on border disputes because China is facing pressure from the east. Second, India believes China would turn to India for help to digest its excess capacity and huge foreign reserves," it said.
China is floating a number of initiatives like new Silk Road and Maritime Silk Road besides Asia Infrastructure Investment Bank (AIIB), which observers say is aimed at investing its roughly USD four trillion of foreign exchange reserves.
China committed USD 20 billion to invest in two industrial parks in India during Xi's visit and India was stated to be a safe destination for Chinese overseas investment unlike Africa and the Middle East.
"Border issues are the largest obstacle for bilateral relations, but they can only be resolved by mutual understanding and mutual accommodation," said the article, written by a scholar from the official Shanghai Institute of International Studies.
"India sees the Indian Ocean within its own sphere of influence, with the intervention of other powers forbidden. China's increasing cooperation with other Indian Ocean bcountries rankle India. It has used this as an excuse to energetically develop its navy," the article said in an apparent reference to India's reservations over Chinese submarine docking in Colombo harbour.
Since the beginning of the 21st century, the focus of India's "Look East" policy gradually expanded from economic and cultural fields to strategic and security fields, and from Southeast to Northeast Asia, it said.
"India interfered in South China Sea disputes by declaring that it would cooperate with Vietnam on oil fields exploitation in this region," the article said.
Prime Minister Narendra Modi needs to maintain stable relations with China, Pakistan and other countries, and needs to absorb investment and technologies from countries like China, Japan and Singapore, it said.
The article noted that China's Silk Road economic belt, the 21st Century Maritime Silk Road, the Bangladesh-China- India-Myanmar Economic Corridor (BCIM) and the China-Pakistan Economic Corridor are part of a geo-economic "Indo-Pacific" plan.
"In order to realise the 'Indo-Pacific Era', China and India should overcome both foreign and domestic obstacles," it said.