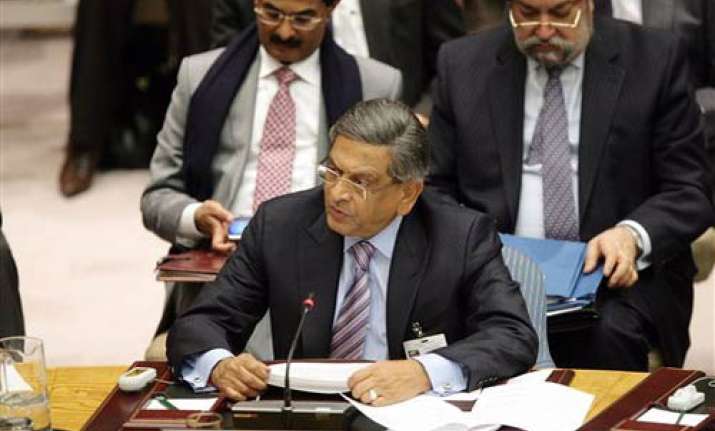 New York, Feb 12 : Indian External Affairs Minister S M Krishna  on Friday said that the four regional powers hoping to get permanent seats on the Security Council - India, Germany, Brazil and Japan - had decided to work with the other members of the United Nations in the coming weeks and months to reach agreement on a reform plan.
"Today we have decided that we should reach out to all the member nations of the United Nations," said Krishna, speaking in New York after talks with his counterparts in the so-called Group of Four alliance.
Despite more than 30 years of failed efforts to reform the 15-member council, ministers of the G-4 expressed optimism that "a concrete outcome" could be achieved during the current session of the 192-member UN General Assembly which ends in early September.
For decades there has been talk of reshaping the 15-nation council, whose five permanent members (P5) - the US, Russia, China, Britain and France - represent a power structure from the immediate post-World War II era.Those five nations have veto powers, so their unanimous support is essential for any reform to be adopted.
The 10 non-permanent members represent all regions of the world and are elected for two-year stints.
For the first time this year, the council has a unique membership of global powers and important emerging countries that reflect the 21st century world: India and China in Asia, South Africa and Nigeria in Africa, and the biggest economic powers in Latin America and Europe, Brazil and Germany.Japan left the council in December after a two-year term.
Krishna on Friday also said that talks were expected to resume between his country and Pakistan on a "secretarial level" over various topics, including peace negotiations.
Krishna's statement came on the heels of a statement released in New Delhi and Islamabad earlier in the week which said the new talks would focus on counter-terrorism, humanitarian issues, peace and security, the disputed Kashmir region and other border issues.Pakistan's foreign minister is expected to visit India by July to review the progress of the talks.
Krishna on Friday also voiced the G-4's concerns over the developments in Egypt and the ouster of President Hosni Mubarak."We were hoping that a solution, which is Egyptian-led, would be found and we are very happy that a decision has been arrived at," he said.  AP