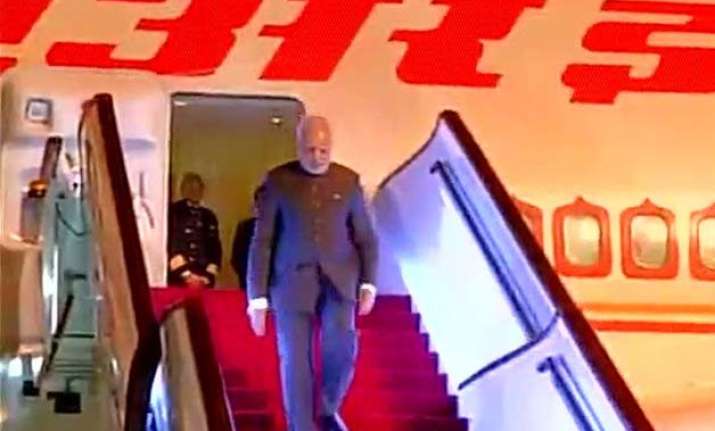 * PM Modi arrives at Shanghai airport
* PM Narendra Modi leaves for Shanghai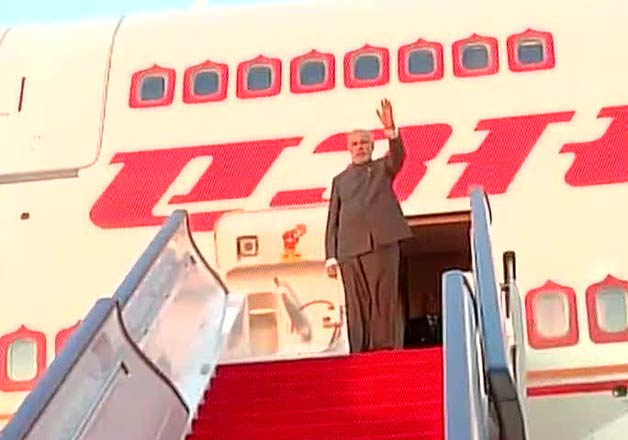 Indian Prime Minister Narendra Modi on Friday attended a Yoga-Taichi event at the Temple of Heaven in central Beijing accompanied by Chinese Premier Li Keqiang.
"Wonderful to see Indian students doing Taichi and Chinese students doing Yoga," the prime minister tweeted.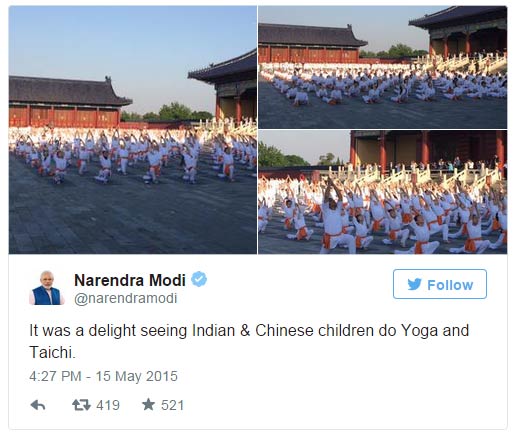 *PM Modi takes selfie with Chinese Prime Minister Li Keqiand at Temple of Heaven in Beijing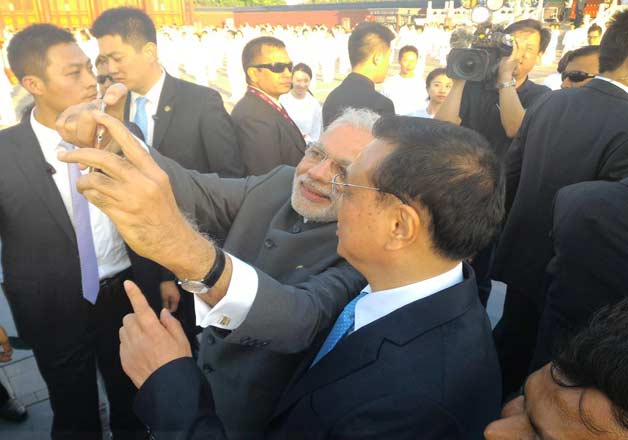 * PM Modi answers questions from students at Tsinghua University
* What we need to do is that both countries need to cooperate with each other: PM Modi
* Today our country (India) is moving forward with the concept of smart city, so now India&China should move together: PM Modi
* Our future will be brighter and journey smoother if we work together, confident of each other: Modi
* Our future is deeply interconnected, we are at a moment where we have the opportunity to make our choices: PM Modi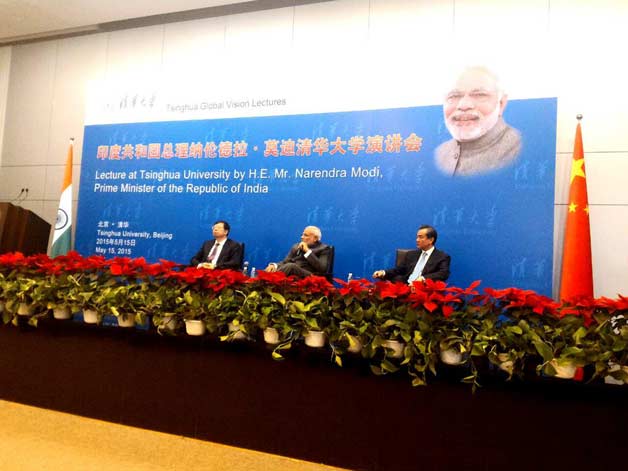 * We have decided to extend electronic tourist visa to Chinese nationals: PM Modi
* Our partnership in international forum should not be determined by concerns of others but the interest of our two countries: PM Modi
* Geography and history tell us that the dream of an interconnected Asia will be successful, when India and China work together: PM
* We source a large part of our energy from the same region that faces instability: PM Modi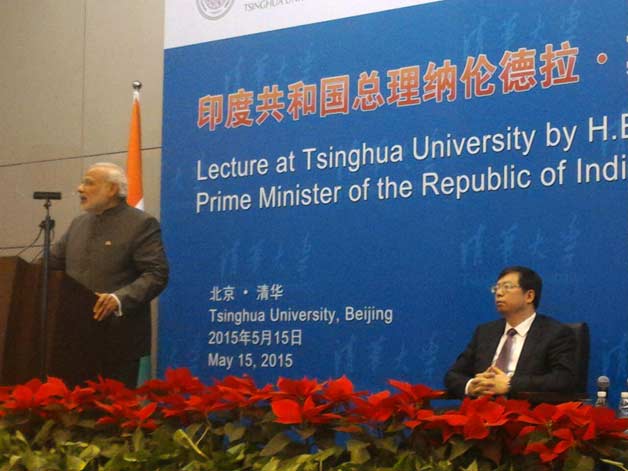 * The solution we choose should do more than settle the boundary question: PM Modi
* We have kept our borders peaceful,we have managed our differences and have not let them affect closer cooperation: PM Modi
* We must address issues that lead to doubt even distress in our relation: PM Modi
* We must also deal with the changing character of terrorism that has made it less predictable and more diffused: PM
* The spreading extremism and terrorism is a threat we both face, for both the source is the same region: Narendra Modi
* We both face instability in our shared neighborhood that can threaten our security and slow down our economies: PM
* We must deal with changing character of terrorism that has become less predictable: Modi
* To maintain this partnership over the long run, we must also improve the access of Indian industry to the Chinese market: PM Modi
* You will feel a change in India, you can notice our growth rate. In many ways our 2 countries reflect similar challenges & opportunities: PM
* We have launched major schemes for financial inclusion of everyone, we are ensuring that insurance and pension    schemes reach the poor: PM
* We will make sure that land acquisition doesnt become a barrier to growth or burden to farmers: Modi
* We have taken big steps to reform our policies and open up to FDI. We are building a tax regime that is stable and competitive: Modi
* India is the next frontier of economic revolution: Modi
* After dark passages of history, India and China stand on verge of vast dynamic change in world: PM Modi
* The wealth that increases by giving, is supreme of all possessions. One example of how our two nations are united in its wisdom: Modi
* PM quotes Chinese saying: If u think ahead 1 yr, plant a seed; if of 10 yrs, plant trees; if of 100 yrs,teach the ppl
* You are a world class institution: PM Modi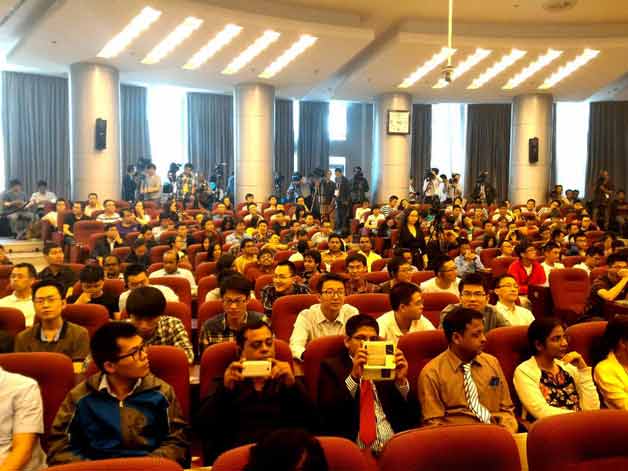 India and China today inked a record 24 bilateral agreements worth USD 10 billion, including one in railway, after talks between Prime Minister Narendra Modi and Chinese Premier Li Keqiang here.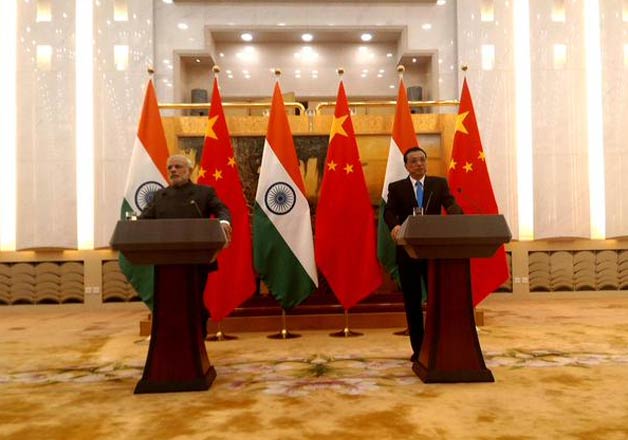 "A record 24 Bilateral Agreements being signed between India and China," tweeted External Affairs Ministry spokesperson Vikas Swarup.
* I look forward to Shanghai tomorrow: Modi
* This has been a very productive & positive visit. I look forward to working with President Xi and Premier Li: Modi
* Nathu La route for Indian pilgrims to visit Kailash Mansarovar will become operational in June. Want to thank China for that: Modi
* This is India's year in China, next year will be China's year in India: Modi
* We have set high level of ambition for our economic partnership: Modi
* Decision to open consulates in Chengdu & Chennai reflects growing mutual confidence & shared commitment to expand relations: Modi
* Peace and progress in Afghanistan helps us both: Modi
* We agreed that as we move ahead, we should be sensitive to each other's interests & strengthen mutual trust & confidence: Modi
* For the first time India has launched a State/Povincial Leaders' forum with another nation: Modi
* We have decided to take our relationship out of Govts in national capitals to the States and the people: Modi
* We agreed that we continue to explore a fair, reasonable and mutually acceptable resolution: Modi
* We both reiterated our strong commitment to make all efforts to maintain peace and tranquility in the border region: Modi
* Our decision to enhance strategic communication & coordination on our region is especially significant: Modi
* I sought tangible progress on issues relating to visa policy and trans-border rivers. I also discussed some of our regional concerns: Modi
* We re-iterated need & importance for peace on borders: Modi
* I stressed need for China to re-consider its approach to some issues that hold us back from realising full potential of our partnership: Modi
* But we have a historic responsibility to turn it into source of strength & force of good for world: Modi
* Our relationship has been complex in recent decades: Modi
* Pleased to visit China in first year of our government. Xi'an is a symbol of our cultural heritage: Modi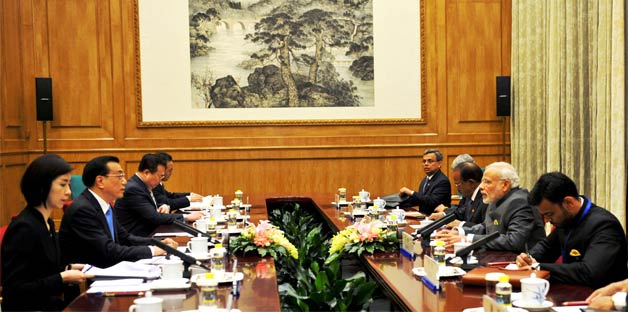 Earlier, Modi was accorded an official ceremonial reception at the Great Hall of People here after which he held one-on-one talks with Li Keqiang.
The Prime Minister arrived here on Thursday night on the second leg of his three-day China trip from Xi'an.
On Thursday, Modi held summit talks with Chinese President Xi Jinping during which the border issue, the trade imbalance and Chinese investments in Pakistan had figured.
On Saturday, Modi will leave for Shanghai.